EUROPEAN JOURNAL OF ENVIRONMENTAL SCIENCES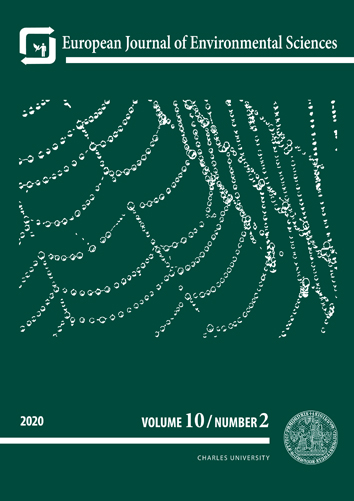 The European Journal of Environmental Sciences offers a mixture of original peer-reviewed research papers, which bring you some of the most exciting developments in environmental sciences in the broadest sense, often with an inter- or trans-disciplinary perspective, focused on the European problems. The journal also includes critical reviews on topical issues, and overviews of the status of environmental protection in particular regions or countries. The journal covers a broad range of topics, including direct or indirect interactions between abiotic or biotic components of the environment, interactions of environment with human society, or environmental sustainability.
Antennal morphology and sensilla of the predaceous ladybirds, Menochilus sexmaculatus and Propylea dissecta
Ahmad Pervez, Meena Yadav, Hakan Bozdogan
DOI: https://doi.org/10.14712/23361964.2020.14
announced: 09. 12. 2021
abstract
Menochilus sexmaculatus and Propylea dissecta (Coleoptera: Coccinellidae) are predaceous ladybird beetles with immense biological control potential. The morphology of the antennae of the adults along with the diversity and distribution of sensilla were investigated using a scanning electron microscope as they are the main sensory organs involved in chemical communication, thermo-reception, materecognition, gustation, etc. The antennae of males and females in both species were clavate and consisted of three parts: scape, pedicel and a 9-segmented flagellum. The antennae of male and female P. dissecta were significantly longer than those of M. sexmaculatus despite their overall body size being smaller, probably due to the much longer F9 flagellomere in P. dissecta. Antennae of female ladybirds of both species exhibited sexual dimorphism in being longer than those of males. Scape was longer than other antennal parts in both species of ladybirds. There was a great diversity of sensilla with most of them on the ninth-flagellomere. We identified nine types of sensillum: chaetica, trichoidea, basiconica, Bohm bristles, campaniformia, placoidea, coeloconica, sporangia and styloconica. Coeloconica were restricted to flagellomere F8 in male P. dissecta and female M. sexmaculatus, respectively, indicating sexual dimorphism and male-related functions of this sensillum.
keywords: antenna; aphid; Coccinellidae; ladybird; morphology; sensilla

Antennal morphology and sensilla of the predaceous ladybirds, Menochilus sexmaculatus and Propylea dissecta is licensed under a Creative Commons Attribution 4.0 International License.
210 x 297 mm
published: 2 x per year
print price: 150 czk
ISSN: 1805-0174
E-ISSN: 2336-1964
Download