AUC THEOLOGICA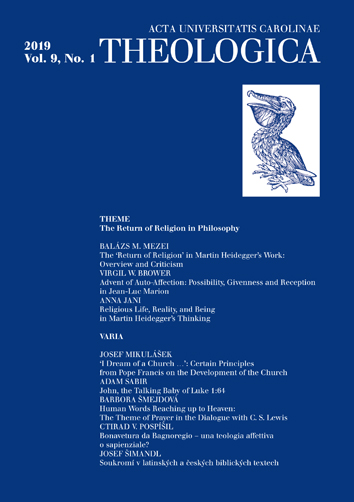 AUC Theologica is a peer-reviewed journal for theology published twice a year. As we publish original papers in English, German, French, and Italian, our mission is to serve as a platform both for Czech researchers, who can present their research results in these languages, and for international contributors, who are invited to enter the academic theological discussion in the heart of Europe.
The journal focuses on a wide range of theological disciplines, such as systematic theology, biblical studies, patristic studies, pastoral and spiritual theology, religious education, church history, etc. Within these fields, the journal seeks to reflect the current theological questions and problems, which often requires interdisciplinary approaches. Supporting the intersection of various theological disciplines, we thus also welcome theological papers touching other academic fields including philosophy, sociology, literary studies, and science.
Each issue consists of two sections. The thematic section presents papers of the same focus. The section called 'Varia' invites papers dealing with various theological themes from the perspective of all Christian traditions. Our current and past issues are approachable for free on this website in the form of Open Access.
The 'Return of Religion' in Martin Heidegger's Work: Overview and Criticism
[The 'Return of Religion' in Martin Heidegger's Work: Overview and Criticism]
Balázs M. Mezei
DOI: https://doi.org/10.14712/23363398.2019.3
announced: 13. 11. 2019
abstract
Martin Heidegger's thought is often seen in the context of its opposition to the traditional notion of religion as expressed especially in Christianity. Since Heidegger became not only estranged from, but even inimical to Christianity at least from his mid-period, some interpretations label his thought atheistic. However, as was pointed out among others by John Caputo or Friedrich-Wilhelm von Herrmann, the relationship between religion and Heidegger's thought is complex. As a young person preparing for Catholic priesthood, Heidegger had a deep understanding of religion on the spiritual as well as the theological level. This essay attempts to show the general background of Heidegger's attitude concerning religion in the tradition of the medieval writing entitled German Theology and also in the age when Heidegger developed his insights. It argues that, especially from his mid-period, Heidegger developed a peculiar kind of mysticism, which can be conceived in the context of the critical tradition of previous forms of religious mysticism. This tradition is even more critical if we leave the realm of German 'titanism' and seek for alternative philosophical expressions not arising from that linguistic context. The essay concludes that it is possible to understand Heidegger's proposals as instrumental to a new understanding of the continuously changing forms and contents of religion if and only if one is prepared to apply the necessary amount of critical reflection.
keywords: Martin Heidegger; Black Notebooks; Philosophy of religion; 'Vallásbölcselet'; Philosophy of revelation

The 'Return of Religion' in Martin Heidegger's Work: Overview and Criticism is licensed under a Creative Commons Attribution 4.0 International License.
148 x 210 mm
published: 2 x per year
print price: 100 czk
ISSN: 1804-5588
E-ISSN: 2336-3398
Download