AUC THEOLOGICA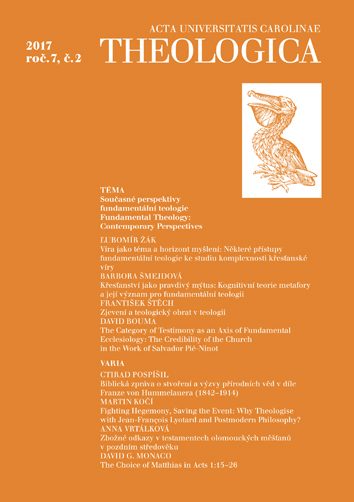 AUC Theologica is a peer-reviewed journal for theology published twice a year. As we publish original papers in English, German, French, and Italian, our mission is to serve as a platform both for Czech researchers, who can present their research results in these languages, and for international contributors, who are invited to enter the academic theological discussion in the heart of Europe.
The journal focuses on a wide range of theological disciplines, such as systematic theology, biblical studies, patristic studies, pastoral and spiritual theology, religious education, church history, etc. Within these fields, the journal seeks to reflect the current theological questions and problems, which often requires interdisciplinary approaches. Supporting the intersection of various theological disciplines, we thus also welcome theological papers touching other academic fields including philosophy, sociology, literary studies, and science.
Each issue consists of two sections. The thematic section presents papers of the same focus. The section called 'Varia' invites papers dealing with various theological themes from the perspective of all Christian traditions. Our current and past issues are approachable for free on this website in the form of Open Access.
Víra jako téma a horizont myšlení: Některé přístupy fundamentální teologie ke studiu komplexnosti křesťanské víry
[Faith as a Topic and Horizon of Thinking: Some Approaches of the Fundamental Theology to the Complexity of the Christian Faith]
Ľubomír Žák
DOI: https://doi.org/10.14712/23363398.2017.17
published online: 18. 02. 2018
abstract
Christian faith is a reality that represents in its complexity a central object of theological research. It determines a primary hermeneutic horizon of the theological thinking. It is an object and horizon that has its specific structure and inner dynamics, and these are in the focus of the fundamental theology. Assuming the existence of diverse models of the fundamental theology, the author analyses some of the best known and most valuable fundamental-theological approaches to the study of the faith. Concurrently, he desires to highlight the fact, that despite their differences, the single approaches contain some common points. These are given by the topic related to the Christian faith and its rational 'intelligibility', by the question of interpretation of the faith in the anthropological key, by the necessity to study the complexity the faith in the light of Christology. The author does not forget to point out the fact that the fundamental theology is challenged today to grasp these characteristic points in a way that would permit to enter the creative evangelising confrontation with the postmodern (and post-Christian) world and to the constructive dialogue with other religions.
keywords: Fundamental Theology; Faith and Reason; Faith and Transcendental Anthropology; Faith and Christology; Fides Iesu; Analysis Fidei; Faith and Inter-Religious Dialogue

Víra jako téma a horizont myšlení: Některé přístupy fundamentální teologie ke studiu komplexnosti křesťanské víry is licensed under a Creative Commons Attribution 4.0 International License.
148 x 210 mm
periodicity: 2 x per year
print price: 100 czk
ISSN: 1804-5588
E-ISSN: 2336-3398
Download