AUC THEOLOGICA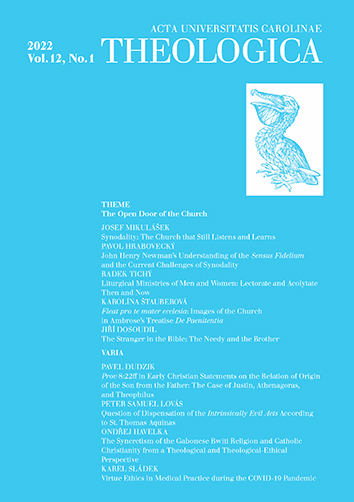 AUC Theologica is a peer-reviewed journal for theology published twice a year. As we publish original papers in English, German, French, and Italian, our mission is to serve as a platform both for Czech researchers, who can present their research results in these languages, and for international contributors, who are invited to enter the academic theological discussion in the heart of Europe.
The journal focuses on a wide range of theological disciplines, such as systematic theology, biblical studies, patristic studies, pastoral and spiritual theology, religious education, church history, etc. Within these fields, the journal seeks to reflect the current theological questions and problems, which often requires interdisciplinary approaches. Supporting the intersection of various theological disciplines, we thus also welcome theological papers touching other academic fields including philosophy, sociology, literary studies, and science.
Each issue consists of two sections. The thematic section presents papers of the same focus. The section called 'Varia' invites papers dealing with various theological themes from the perspective of all Christian traditions. Our current and past issues are approachable for free on this website in the form of Open Access.
Question of Dispensation of the Intrinsically Evil Acts According to St. Thomas Aquinas
Peter Samuel Lovás
DOI: https://doi.org/10.14712/23363398.2022.21
published online: 25. 11. 2022
abstract
If some action is intrinsically evil, it lacks all moral goodness. This act keeps some physical goodness in the sense that it is real, but it suffers from a real deficient moral disorder. It is morally evil in its essence because its moral privation shapes its objective character. Its disorder defines the act at its core. Such an act is not only affected by evil; it is constituted by evil. The evil shapes the formality and the identity of the action itself. St. Thomas Aquinas argues that these actions cannot be rightly performed under any circumstances and for no end. However, could Almighty God in some specific situations give a dispensation from the negative absolute prohibition? Some biblical cases seem to support this explanation. In many morally difficult situations, some kind of mental reservation, or dispensation that would render an otherwise evil act at least morally permissible, might be very convenient. Aquinas explains that God cannot dispense from the precepts of the decalogue because he would deny himself, who is Justice itself. We will see how it was possible to order Abraham to kill his son and other similar morally disputed cases. Later, we will consider cases of lying and fraud, which frequently appear in the Bible.
keywords: Human action; Intrinsically evil; Dispensation; Lying; Thomas Aquinas; Veritatis splendor

Question of Dispensation of the Intrinsically Evil Acts According to St. Thomas Aquinas is licensed under a Creative Commons Attribution 4.0 International License.
148 x 210 mm
periodicity: 2 x per year
print price: 100 czk
ISSN: 1804-5588
E-ISSN: 2336-3398
Download