AUC THEOLOGICA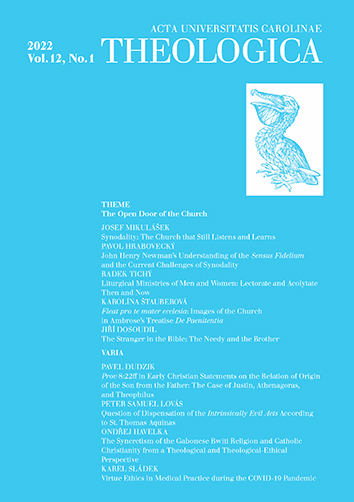 AUC Theologica is a peer-reviewed journal for theology published twice a year. As we publish original papers in English, German, French, and Italian, our mission is to serve as a platform both for Czech researchers, who can present their research results in these languages, and for international contributors, who are invited to enter the academic theological discussion in the heart of Europe.
The journal focuses on a wide range of theological disciplines, such as systematic theology, biblical studies, patristic studies, pastoral and spiritual theology, religious education, church history, etc. Within these fields, the journal seeks to reflect the current theological questions and problems, which often requires interdisciplinary approaches. Supporting the intersection of various theological disciplines, we thus also welcome theological papers touching other academic fields including philosophy, sociology, literary studies, and science.
Each issue consists of two sections. The thematic section presents papers of the same focus. The section called 'Varia' invites papers dealing with various theological themes from the perspective of all Christian traditions. Our current and past issues are approachable for free on this website in the form of Open Access.
Fleat pro te mater ecclesia: Images of the Church in Ambrose's Treatise De Paenitentia
Karolína Štauberová
DOI: https://doi.org/10.14712/23363398.2022.18
published online: 25. 11. 2022
abstract
The study is focused on several aspects present in Ambrose's treatise De paenitentia, namely his ecclesiology with respect to the theology and practice of penance. The primary purpose of De paenitentia was the confrontation with the heresy of Ambrose's time when so-called Novatians denied the possibility of penance and absolution for the Christians who committed a serious crime after baptism. Ambrose's reaction is not only the targeted polemic with this rigorism, but in his treatise, he further develops the structured theology of penance. After a brief historical summary of the roots of Novatian heresy as a reaction to the problem with the lapsi who denied the faith during Decius' persecution, this paper focuses on Ambrose's arguments in favour of Church as a welcoming place even for sinners. Ambrose uses several biblical images, such as the Good Samaritan, Peter the Apostle, Lazarus, and female figures from the Gospels, to show the value and importance of penance and the role of the Church, who got from Christ the power to 'bind and loose'. Despite the different practice of penance in the early church, Ambrose's exegesis and image of the Church as the inn where everybody can be welcomed and cured, no matter in which condition he or she is coming, can serve as an inspiration also for today's discussion about the character of the Church.
keywords: Ambrose of Milan; Church Fathers; 4th century; Novatian; Sin; Penance; Repentance

Fleat pro te mater ecclesia: Images of the Church in Ambrose's Treatise De Paenitentia is licensed under a Creative Commons Attribution 4.0 International License.
148 x 210 mm
periodicity: 2 x per year
print price: 100 czk
ISSN: 1804-5588
E-ISSN: 2336-3398
Download