AUC THEOLOGICA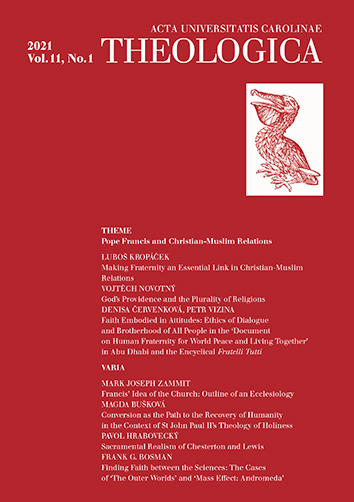 AUC Theologica is a peer-reviewed journal for theology published twice a year. As we publish original papers in English, German, French, and Italian, our mission is to serve as a platform both for Czech researchers, who can present their research results in these languages, and for international contributors, who are invited to enter the academic theological discussion in the heart of Europe.
The journal focuses on a wide range of theological disciplines, such as systematic theology, biblical studies, patristic studies, pastoral and spiritual theology, religious education, church history, etc. Within these fields, the journal seeks to reflect the current theological questions and problems, which often requires interdisciplinary approaches. Supporting the intersection of various theological disciplines, we thus also welcome theological papers touching other academic fields including philosophy, sociology, literary studies, and science.
Each issue consists of two sections. The thematic section presents papers of the same focus. The section called 'Varia' invites papers dealing with various theological themes from the perspective of all Christian traditions. Our current and past issues are approachable for free on this website in the form of Open Access.
God's Providence and the Plurality of Religions
Vojtěch Novotný
DOI: https://doi.org/10.14712/23363398.2021.3
published online: 27. 09. 2021
abstract
The 'Document on Human Fraternity for World Peace and Living Together', co-signed on 4 February 2019 by Pope Francis and the Grand Imam of Al Azhar, Ahmad Al-Tayeb, states: 'The pluralism and the diversity of religions, colour, sex, race and language are willed by God in His wisdom, through which He created human beings.' The article presents the starting points of correct hermeneutics of this statement. It points out that it is a positive reformulation of the anti-discrimination human rights declarations, which list the criteria according to which people cannot be discriminated. It shows the compatibility of the statement with the Quran, which presupposes a plurality of successive and graded revelations of God and religions: Judaism, Christianity, and Islam. It then represents the reactions with which Catholic theologians responded to the statement: the accusation of the Pope of heresy; the claim that while God's creative will has instilled a natural religion in human beings, it does not positively seek a plurality of religions; the claim that non-Christian religions are an evil by which God allows to achieve greater good; the claim that all religions are wanted by God's Providence in what is true, good, and beautiful in them as the preparation for the salvation of man in the encounter with Christ. In the end, it discusses the idea of St. John Paul II, who, for several years before the creation of the Abu Dhabi declaration, combined this last idea with the work of the Holy Spirit.
keywords: Document on Human Fraternity; Hermeneutics; Islam; Christianity

God's Providence and the Plurality of Religions is licensed under a Creative Commons Attribution 4.0 International License.
148 x 210 mm
periodicity: 2 x per year
print price: 100 czk
ISSN: 1804-5588
E-ISSN: 2336-3398
Download