AUC THEOLOGICA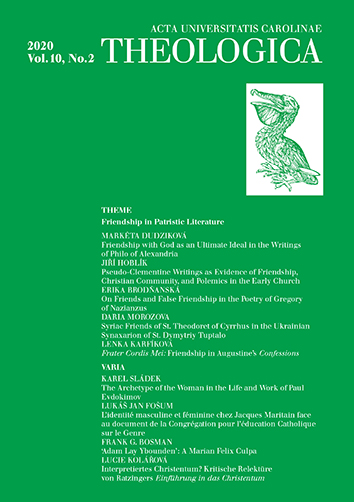 AUC Theologica is a peer-reviewed journal for theology published twice a year. As we publish original papers in English, German, French, and Italian, our mission is to serve as a platform both for Czech researchers, who can present their research results in these languages, and for international contributors, who are invited to enter the academic theological discussion in the heart of Europe.
The journal focuses on a wide range of theological disciplines, such as systematic theology, biblical studies, patristic studies, pastoral and spiritual theology, religious education, church history, etc. Within these fields, the journal seeks to reflect the current theological questions and problems, which often requires interdisciplinary approaches. Supporting the intersection of various theological disciplines, we thus also welcome theological papers touching other academic fields including philosophy, sociology, literary studies, and science.
Each issue consists of two sections. The thematic section presents papers of the same focus. The section called 'Varia' invites papers dealing with various theological themes from the perspective of all Christian traditions. Our current and past issues are approachable for free on this website in the form of Open Access.
L'identité masculine et féminine chez Jacques Maritain face au document de la Congrégation pour l'éducation catholique sur le genre
[The Masculine and Feminine Identity in the Work of Jacques Maritain with Regard to the Document of the Cogregation for Catholic Education on Gender]
Lukáš Jan Fošum
DOI: https://doi.org/10.14712/23363398.2020.61
announced: 02. 02. 2021
abstract
The recent document of the Congregation for Catholic Education on the question of gender 'Male and Female He Created Them' emphasises the importance of the sexual difference for the masculine and feminine identity. On the other hand, in his essay 'Faisons-lui une aide semblable à lui' written in 1967, Jacques Maritain insists that this difference is more a difference of the soul than a difference of the body and that it will last also when the bodies are resurrected after death. His concept of the masculine and feminine specificity is based both on biblical and philosophical arguments. Without inclining to feminism, Maritain underlines especially the way in which a woman is different from a man. This study tries to show, how Maritain's ideas about the sub-specificity of man's and woman's soul can be complementary to the anthropology of the above-mentioned document of the Congregation for Catholic Education. Furthermore, it shows also a critical point of view of Maritain's idea of manhood and womanhood with the emphasis on the philosophical terms which are used for the difference between man and woman.
keywords: Jacques Maritain; Masculinity and femininity; Theological anthropology; Congregation for Catholic Education

L'identité masculine et féminine chez Jacques Maritain face au document de la Congrégation pour l'éducation catholique sur le genre is licensed under a Creative Commons Attribution 4.0 International License.
148 x 210 mm
published: 2 x per year
print price: 100 czk
ISSN: 1804-5588
E-ISSN: 2336-3398
Download