AUC THEOLOGICA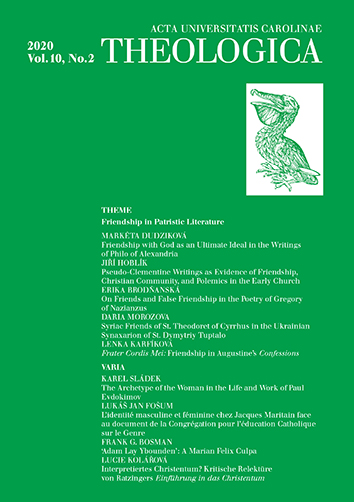 AUC Theologica is a peer-reviewed journal for theology published twice a year. As we publish original papers in English, German, French, and Italian, our mission is to serve as a platform both for Czech researchers, who can present their research results in these languages, and for international contributors, who are invited to enter the academic theological discussion in the heart of Europe.
The journal focuses on a wide range of theological disciplines, such as systematic theology, biblical studies, patristic studies, pastoral and spiritual theology, religious education, church history, etc. Within these fields, the journal seeks to reflect the current theological questions and problems, which often requires interdisciplinary approaches. Supporting the intersection of various theological disciplines, we thus also welcome theological papers touching other academic fields including philosophy, sociology, literary studies, and science.
Each issue consists of two sections. The thematic section presents papers of the same focus. The section called 'Varia' invites papers dealing with various theological themes from the perspective of all Christian traditions. Our current and past issues are approachable for free on this website in the form of Open Access.
On friends and false friendship in the poetry of Gregory of Nazianzus
Erika Brodňanská
DOI: https://doi.org/10.14712/23363398.2020.57
announced: 02. 02. 2021
abstract
Unlike family relations, friendships are based primarily on deliberate personal decisions. In some cases, however, they can be marked not only by sympathy and positive emotions but also by opportunism and conflicts. The relationship between two Church Fathers and close friends, St. Gregory of Nazianzus and St. Basil the Great, went through a whole range of emotions. A portrayal of this relationship, as well as several others (e.g. the one with Maximus the Cynic), is to be found in St. Gregory's autobiographical poem De vita sua. Some details on the saint's friends can also be perceived from his letters in verses, addressed to a group of more or less close friends from his surroundings. The variety and seriousness of the matters that St. Gregory discusses in these texts mirror the depth or superficiality of each particular relationship. In his letters in verses, Gregory of Nazianzus asks his friends for special favours (e.g. Hellenius), praises their deeds (e.g. some members of the monastic community in Caesarea), encourages them (e.g. Nemesius) or reprimands them (e.g. Vitalianus). A significant indicator of the level of friendship with the persons involved is the way St. Gregory addresses them. The salutations he uses are often very courteous, but in a couple of cases, marks of enmity can be found as well.
keywords: Gregory of Nazianzus; Poetry; Friends; St. Basil the Great; Cynic Maximus; Peraequator Hellenius

On friends and false friendship in the poetry of Gregory of Nazianzus is licensed under a Creative Commons Attribution 4.0 International License.
148 x 210 mm
published: 2 x per year
print price: 100 czk
ISSN: 1804-5588
E-ISSN: 2336-3398
Download