AUC STUDIA TERRITORIALIA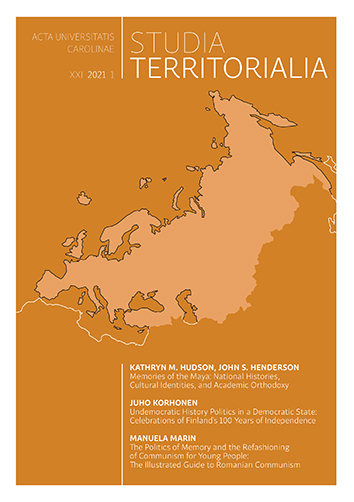 AUC Studia Territorialia (Acta Universitatis Carolinae Studia Territorialia) is a peer-reviewed academic journal focusing on Area Studies. It covers political, economic, social, and cultural affairs of North America, Europe, and post-Soviet Eurasia in the twentieth and twenty-first centuries. The journal was founded in 2001; currently, it appears biannually, both electronically and in print. It publishes original scholarly articles, book reviews, conference reports and research notes. The journal is a publication of the Institute of International Studies at Charles University's Faculty of Social Sciences.
Memories of the Maya: National Histories, Cultural Identities, and Academic Orthodoxy
Kathryn M. Hudson, John S. Henderson
DOI: https://doi.org/10.14712/23363231.2021.8
published online: 02. 08. 2021
abstract
John Lloyd Stephens and Frederick Catherwood's travel account celebrating ancient Maya sculpture and architecture set the stage for the emphasis of the Maya as the pinnacle of cultural development in Mexico and Central America and for the appropriation of Maya prehistory as the foundation of modern national histories and identities. In the twentieth century, these discourses intensified into two interconnected hegemonic narratives – one in syntheses of precolumbian history by North American archaeologists and the other in national histories produced in Central America – that privileged the Maya as a source of history, legitimacy, and identity. This paper explores these narratives as they occur in Honduras through three distinct but interrelated lenses: academic discourse on Honduran archaeology; the conceptualization and development of a Honduran national identity; and the engagement of descendant groups with this constructed heritage. Considered together, these perspectives illuminate the complex cultural and political foundation(s) of memory.
keywords: United States; Honduras; Maya; archaeological sites; indigenous people; identity discourses; memory

Memories of the Maya: National Histories, Cultural Identities, and Academic Orthodoxy is licensed under a Creative Commons Attribution 4.0 International License.
148 x 210 mm
periodicity: 2 x per year
print price: 180 czk
ISSN: 1213-4449
E-ISSN: 2336-3231
Download