AUC STUDIA TERRITORIALIA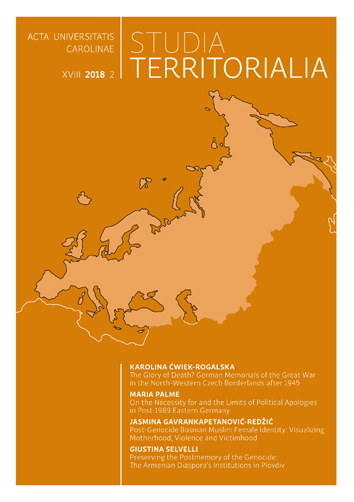 AUC Studia Territorialia (Acta Universitatis Carolinae Studia Territorialia) is a peer-reviewed academic journal focusing on Area Studies. It covers political, economic, social, and cultural affairs of North America, Europe, and post-Soviet Eurasia in the twentieth and twenty-first centuries. The journal was founded in 2001; currently, it appears biannually, both electronically and in print. It publishes original scholarly articles, book reviews, conference reports and research notes. The journal is a publication of the Institute of International Studies at Charles University's Faculty of Social Sciences.
Post-Genocide Bosnian Muslim Female Identity: Visualizing Motherhood, Violence and Victimhood
Jasmina Gavrankapetanović-Redžić
DOI: https://doi.org/10.14712/23363231.2019.12
announced: 03. 06. 2019
abstract
As Yugoslavia fell apart in the 1990s, the Serbs used violence strategically, to achieve permanent divisions between ethnic categories and to thwart future attempts to rebuild trust and normalize interethnic relations. The goal of the violence was to intensify national and religious differences within socialist Yugoslavia's highly multicultural society. The violence of the war, and the sexual violence in particular, influenced the identity of Bosnian Muslims. It heightened their sense of endangerment and consequently, their feeling of belonging to a persecuted group. This paper analyzes the visual representations of motherhood, violence and victimhood in four films directed by Jasmila Žbanić. It finds inspiration in Žarana Papić's critical approach to patriarchy and nationalism and Inger Skjelsbæk's field work among the survivors of sexual violence in Bosnia and Herzegovina. The paper's main goals are to trace the link between patriarchy, nationalism and the memory of gender-directed violence, and to highlight the transformation of Bosnian Muslim identity within the context of history.
keywords: Bosnia and Herzegovina; genocide; war crimes; sexual violence; patriarchy; victimhood; motherhood
Published by the Karolinum Press. For permission to use please write to journals@karolinum.cz.
148 x 210 mm
published: 2 x per year
print price: 180 czk
ISSN: 1213-4449
E-ISSN: 2336-3231
Download