AUC PHILOSOPHICA ET HISTORICA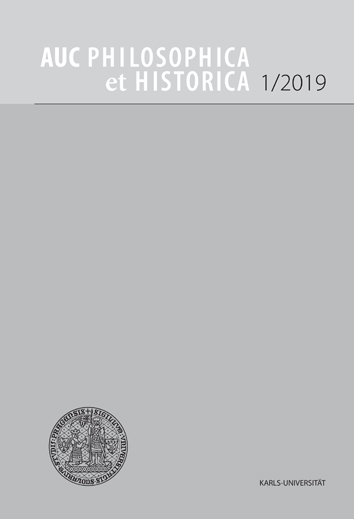 AUC Philosophica et Historica (Acta Universitatis Carolinae Philosophica et Historica) is a multidisciplinary academic journal focused on the humanities with more than 50 years of tradition.
The journal is indexed in CEEOL, DOAJ, and EBSCO.
Pierwsze piastowskie królestwo
[The first Kingdom of Piasts]
Zbigniev Dalewski
DOI: https://doi.org/10.14712/24647055.2019.11
announced: 20. 03. 2020
abstract
The paper aims to reevaluate the ideological and theological questions connected with the first two coronations of the Piast rulers. The author tries to present the actions of Polish kings-to-be as a possible redefinition of their position within the recreated medieval Roman empire (not against it as a more traditional view puts it). Very important role plays the utilization of Holy Lance, or its copy possessed by the Polish rulers. Author uses especially the written accounts of Thietmar's Chronicle put in certain antithesis with the only positive contemporary description of Mieszko II's kingship – the letter written (or stylized) by Matilda of Swabia. The kingship of Piasts is described rather as a religious and ideological, rather than political act.
keywords: kingdom; kingship; Poland; Mieszko II; Boleslav the Valiant
references (66)
1. Źródła
2. Ademari Cabannensis Chronicon, wyd. Pascale BOURGAIN (Corpus Christianorum. Continuatio Mediaevalis. Vol. 129). Turnhout 1999.
3. Annales Hildesheimenses, wyd. Georg WAITZ (MGH Scriptores rerum Germanicarum in usum scholarum separatim editi. Vol. 8). Hannover 1878.
4. Annales Magdeburgenses, wyd. Georg Heinrich PERTZ u. a., in: MGH Scriptores (in Folio). Vol. 16: Historiae aevi Suevici. Hannover 1859, s. 107–196.
5. Annales Quedlinburgenses, wyd. Martina GIESE (MGH Scriptores rerum Germanicarum in usum scholarum separatim editi. Vol. 72). Hannover 2004.
6. Epistola Brunonis ad Henricum regem (Monumenta Poloniae Historica. Nova Series. Vol. 4, cz. 3), wyd. Jadwiga KARWASIŃSKA. Warszawa 1973.
7. Epistola Mathildis Suevae, wyd. Brygida KÜRBIS, w: Codex Mathildis. Liber officiorum cum foliis dedicationis (Monumenta Sacra Polonorum. Vol. 1). Kraków 2000.
8. Galli Anonymi Cronicae et gesta ducum sive principum Polonorum (Monumenta Poloniae Historica. Nova Series. Vol. 2), wyd. Karol MALECZYŃSKI. Kraków 1952.
9. Thangmari Vita Berwardi Episcopi Hildesheimensis, wyd. Georg Heinrich PERTZ, w: MGH Scriptores (in Folio). Vol. 4: Annales, chronica et historiae aevi Carolini et Saxonici. Hannover 1846.
10. Thietmari Merseburgensis episcopi Chronicon (MGH Scriptores rerum Germanicarum. Nova series. Vol. 9), wyd. Robert HOLTZMANN. Berlin 1935.
11. Wiponis Gesta Chuonradi II. imperatoris, wyd. Harry BRESSLAU (MGH Scriptores rerum Germanicarum in usum scholarum separatim editi. Vol. 61). Hannover/Leipzig 1915.
12. Literatura
13. Gerd ALTHOFF, Die Macht der Rituale: Symbolik und Herrschaft im Mittelalter. Darmstadt 2003.
14. Jerzy BANASZKIEWICZ, Otton III jedzie do Gniezna: o oprawie ceremonialnej wizyty cesarza w kraju i stolicy Polan, w: Idem, Trzy po trzy o dziesiątym wieku. Kraków 2014, s. 185-220.
15. Karen BLOUGH, The Lance of St Maurice as a Component the Early Ottonian Campaign against Paganism, w: Early Medieval Europe 24 (2016), s. 338-361. CrossRef
16. Lothar BORNSCHEUER, Miseriae regum: Untersuchungen zum Krisen- und Todesgedanken in den herrschaftstheologischen Vorstellungen der ottonisch-salischen Zeit. Berlin 1968. CrossRef
17. Cornelius Adrianus BOUMAN, Sacring and Crowning: the Development of the Latin Ritual for the Anointing of Kings and the Coronation of an Emperor before the Eleventh Century. Groningen/Djakarta 1957.
18. Egon BOSHOF, Die Vorstellung vom sakralen Königtum in karolingisch-ottonischer Zeit, w: Das Frühmittelalterliche Konigtum: ideelle und religiose Grundlagen, red. Franz-Reiner Erkens. Berlin/New York 2005, s. 331-358.
19. Zbigniew DALEWSKI, Die Heilige Lanze und die polnischen Insignien, w: Europas Mitte um 1000: Beitrage zur Geschichte, Kunst und Archaologie. T. 2, red. Alfried Wieczorek - Hans-Martin Hinz. Stuttgart 2000, s. 907-911.
20. Zbigniew DALEWSKI, Ritual and Politics: Writing History of Dynastic Conflict in Medieval Poland. Boston/Leiden 2008. CrossRef
21. Zbigniew DALEWSKI, Sakralność władzy królewskiej pierwszych Piastów, in: Historia Slavorum Occidentis 14 (2017), s. 43-57. CrossRef
22. Robert DESHMAN, The Exalted Servant: the Ruler Theology of the Prayerbook of Charles the Bald, w: Viator 11 (1980), s. 387-417. CrossRef
23. Robert DESHMAN, Christus rex et magi reges: Kingship and Christology in Ottonian and Anglo-Saxon Art, w: Frühmittelalterliche Studien 10 (1976), s. 367-406. CrossRef
24. Franz-Reiner ERKENS, Herrschersakralität im Mittelalter: von den Anfängen bis zum Investiturstreit. Stuttgart 2006.
25. Franz-Reiner ERKENS, Konrad II. (um 990-1039): Herrschaft und Reich des ersten Salierkaisers. Regensburg 1998.
26. Kurt GÖRICH, Eine Wende im Osten: Heinrich II. und Boleslaw Chrobry, w: Otto III. - Heinrich II.: eine Wende?, red. Bernd Schneidmüller - Stefan Weinfurter. Sigmaringen 1997.
27. Adolf HOFMEISTER, Die heilige Lanze, ein Abzeichen des alten Reiches. Breslau 1908.
28. Giovanni ISABELLA, Das Sakralkönigtum in Quellen aus ottonischer Zeit: unmittelbarer Bezug zu Gott oder Vermittlung durch die Bischöfe, w: Frühmittelalterliche Studien 44 (2011), s. 137-152. CrossRef
29. Ludger KÖRNTGEN, Konigsherrschaft und Gottes Gnade: zu Kontext und Funktion sakraler Vorstellungen in Historiographie und Bildzeugnissen der ottonisch-fruhsalischen Zeit. Berlin 2001. CrossRef
30. Hans-Walther KLEWITZ, Die heilige Lanze Heinrichs I., w: Deutsches Archiv für Geschichte des Mittelalters 6 (1943), s. 42-58.
31. Brygida KÜRBIS, Die Epistola Mathildis Suevae an Mieszko II. in neuer Sicht: ein Forschungsbericht, w: Frühmittelalterliche Studien 23 (1989), s. 318-338. CrossRef
32. Brygita KÜRBIS, Epistola Mathildis Suevae, w: Codex Mathildis, s. 49-83.
33. Gerard LABUDA, Mieszko II król Polski (1025-1034): czasy przełomu w dziejach państwa polskiego. Kraków 1992.
34. Anatol LEWICKI, Mieszko II, w: Rozprawy Akademii Umiejętności, Wydział Historyczno-Filozoficzny 5 (1876), s. 87-208.
35. Henryk ŁOWMIAŃSKI, Początki Polski: polityczne i społeczne procesy kształtowania się narodu do początku wieku XIV, t. 6, cz. 1. Warszawa 1985.
36. Rob MEENS, Kirchliche Buße und Konfliktbewältigung: Thietmar von Merseburg näher betrachtet, w: Frühmittelalterliche Studien 41 (2007), s. 317-330. CrossRef
37. Rob MEENS, Penance in Medieval Europe, 600-1200. Cambridge 2014. CrossRef
38. Roman MICHAŁOWSKI, The Gniezno Summit: the Religious Premises of the Founding of the Archbishopric of Gniezno. Leiden/Boston 2016. CrossRef
39. Roman MICHAŁOWSKI, Christianisation of the Piast Monarchy in the 10th and 11th Centuries, w: Acta Poloniae Historica 101 (2010), s. 14-32.
40. Roman MICHAŁOWSKI, The Nine-Week Lent in Boleslaus the Brave's Poland: a Study of the First Piasts' Religious Policy, w: Acta Poloniae Historica 89 (2004), s. 5-50.
41. Roman MICHAŁOWSKI, Princeps fundator: studium z dziejów kultury politycznej w Polsce X-XIII wieku. Warszawa 1989.
42. Janet Loughland NELSON, Kingship and empire, w: Carolingian Culture: Emulation and Innovation, red. Rosamond McKitterick. Cambridge 1994, s. 52-87.
43. Marcin Rafal PAUK, Washing Hands in a Sinner's Blood: Ducal Power, Law and Religious Zeal in the Kulturen: Studien zu Recht, Bildung und Herrschaft in Mitteleuropa, red. Renata Skowrońska - Helmut Flachenecker. Toruń 2015, s. 23-34.
44. Andrzej PLESZCZYŃSKI, The Birth of Stereotype: Polish Rulers and their Country in German Writings c. 1000 A.D. Leiden/Boston 2011.
45. Aniela POSPIESZYŃSKA, Mieszko II a Niemcy, w: Roczniki Historyczne 14 (1938), s. 239-295.
46. Mieczysław ROKOSZ, Wawelska włócznia Bolesława Chrobrego: przegląd problematyki, w: Rocznik Krakowski 15 (1989), s. 17-44.
47. Rudolf SCHIEFFER, Mediator cleri et plebis: zum geistlichen Einfluß auf Verständnis und Darstellung des ottonischen Königtums, w: Herrschaftsrepräsentation im ottonischen Sachsen, red. Gerd Althoff - Ernst Schubert. Sigmaringen 1998, s. 344-361.
48. Reinhard SCHNEIDER, Die Königserhebung Heinrich II. im Jahre 1002, w: Deutsches Archiv für Erforschung des Mittelalters 28 (1972), s. 74-104.
49. Walther SCHLESINGER, Erbfolge und Wahl bei der Königserhebung Heinrichs II. 1002, w: Festschrift für Hermann Heimpel zum 70. Geburtstag. T. 3. Göttingen 1972, s. 1-36.
50. Percy Ernst SCHRAMM, Der Ablauf der deutschen Königsweihe nach dem 'Mainzer Ordo' (um 960), w: Idem, Kaiser, Könige und Päpste: Gesammelte Aufsätze zur Geschichte des Mittelalters. T.3. Stuttgart 1969, s. 59-107.
51. Percy Ernst SCHRAMM, Die 'Heilige Lanze', Reliquie und Herrschaftszeichen des Reiches und ihre Replik in Krakau: ein Überblick über die Geschichte der Königslanze, w: Idem., Herrschaftszeichen und Staatssymbolik: Beiträge zu ihrer Geschichte vom dritten bis zum sechszehnten Jahrhundert. Stuttgart 1955, s. 492-537.
52. Klaus SCHREINER, Nudis pedibus: Barfüßigkeit als religiöses und politisches Ritual, w: Formen und Funktionen öffentlicher Kommunikation im Mittelalter, red. Gerd Althoff. Stuttgart 2001, s. 53-124.
53. Mechthild SCHULZE-DÖRRLAMM, Die Heilige Lanze in Wien: die Frühgeschichte des karolingischottonisch Herrschaftszeichens aus archäologischer Sicht, w: Jahrbuch des Romisch-Germanischen Zentralmuseums 58 (2011), s. 707-742.
54. Dariusz Andrzej SIKORSKI, Kościół w Polsce za Mieszka I i Bolesława Chrobrego: rozważania nad granicami poznania historycznego. Poznań 2011.
55. Edward SKIBIŃSKI, Koronacje pierwszych Piastów w najstarszych źródłach narracyjnych, w: Gnieźnieńskie koronacje królewskie i ich środkowoeuropejskie konteksty, red. Józef Dobosz - Marzena Matla - Leszek Wetesko. Gniezno 2011, s. 213-234.
56. Jerzy STRZELCZYK, Zjazd gnieźnieński. Wrocław 2000.
57. Błażej ŚLIWIŃSKI, Bezprym: pierworodny syn pierwszego krola Polski (986 - zima/wiosna 1032). Kraków 2014.
58. Stefan WEINFURTER, Der Anspruch Heinrichs II. auf die Königsherrschaft, w: Papstgeschichte und Landesgeschichte: Festschrift für Hermann Jakobs zum 65. Geburtstag, red. Joachim Dahlhaus - Armin Kohnle. Köln/Weimar/Wien 1995, s. 121-134.
59. Stefan WEINFURTER, Heinrich II. (1002-1024): Herrscher am Ende der Zeiten. Regensburg 2002.
60. Stefan WEINFURTER, Kaiser Heinrich II. und Bolesław Chrobry: Herrscher mit ähnlichen Konzepten?, w: Questiones Medii Aevi Novae 9 (2004), s. 5-25.
61. Stefan WEINFURTER, Idee und Funktion des 'Sakralkönigtums' bei den ottonischen und salischen Herrschern (10. und 11. Jahrhundert), w: Legitimation und Funktion des Herrschers: vom ägyptischen Pharao zum neuzeitlichen Diktator, red. Rolf Gundlach - Hermann Weber. Stuttgart 1992, s. 99-127.
62. Stefan WEINFURTER, Zur 'Funktion' des ottonischen und salischen Königtums, w: Mittelalterforschung nach der Wende, red. Michael Borgolte. München 1995, s. 249-361.
63. Przemysław WISZEWSKI, Domus Bolezlai: Values and Social Identity in Dynastic Traditions of Medieval Poland (c. 966-1138). Leiden/Boston 2010. CrossRef
64. David A. WARNER, Henry II at Magdeburg: Kingship, Ritual and the Cult of Saints, w: Early Medieval Europe 3 (1994), s. 135-166. CrossRef
65. Gunther WOLF, Heilige Lanze: Longinus-, Kreuznageloder Mauritius-Lanze, w: Idem., Satura mediaevalis: Gesammelte Schriften herausgegeben zum 65. Geburtstag. T. 2: Ottonenzeit. Heidelberg 1995.
66. Herwig WOLFRAM, Konrad II. 990-1039: Kaiser dreier Reiche. München 2000.

Pierwsze piastowskie królestwo is licensed under a Creative Commons Attribution 4.0 International License.

published: 2 x per year
ISSN: 0567-8293
E-ISSN: 2464-7055
Download