AUC PHILOLOGICA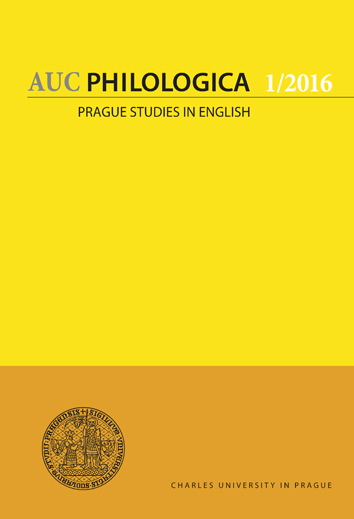 AUC Philologica (Acta Universitatis Carolinae Philologica) is an academic journal published by Charles University. It publishes scholarly articles in a large number of disciplines (English, German, Greek and Latin, Oriental, Romance and Slavonic studies, as well as in phonetics and translation studies), both on linguistic and on literary and cultural topics. Apart from articles it publishes reviews of new academic books or special issues of academic journals.
The journal is indexed in CEEOL, DOAJ, EBSCO, and ERIH PLUS.
Frames, Shapes and Selves: Towards the Idea of Space in Virginia Woolf's Fiction
Martin Štefl
DOI: https://doi.org/10.14712/24646830.2016.31
published online: 15. 06. 2016
abstract
The article discusses affinities between physical and mental spaces in selected works of Virginia Woolf in connection with the main philosophical and aesthetic problems posed by the changes in modernist representation of character with respect to space and place. In doing so, the argument assesses Woolf ' s in-human humanism in short stories like "Kew Gardens," "The Fascination of the Pool" or "A Simple Melody," assessing the interrelation between states of mind and the material universe, the way in which consciousness accommodates various material "admixtures" and how subjectivity "escapes" from subject to its own outside. Using the post-Cartesian aspects of Henri Bergson ' s philosophy (pure perception, role of memory, philosophy of space and duration), Gaston Bachelard ' s thought on the "cogito of the dreamer," and Miroslav Petříček ' s theory of framing and frames, the argument examines how the instability of these newly constructed cavernous subjectivities enables interaction with space, place and materiality. This interaction challenges traditional ideas of unity of self, personal identity and autonomous agency, resulting in new, essentially modernist representations of reality. Drawing on a number of themes from visual arts, the discussion connects these psychological factors with the notions of solidity and fluidity, stability and instability of material reality and individual objects, moving bodies or things in space. Rámy, tvary a subjekty – k pojetí prostoru v próze Virginie Woolfové Článek se věnuje problematice vztahu mezi fyzickým a psychologickým prostorem v díle Virginie Woolfové v kontextu filosofie a estetiky počátku dvacátého století s ohledem na změny ve ztvárnění prostoru, místa a lidské osobnosti. Diskuse se zaměřuje na problematiku jednoty lidské subjektivity především v povídkách jako Kew Gardens, The Mark on the Wall, A Simple Melody či The Fascination of the Pool a sleduje vztah mezi změněnými stavy lidské mysli a její interakce s vnějším světem a jeho proměnlivými strukturami. Výklad se dále zaměřuje na alternativní způsoby "prostorového" vyjádření procesu decentralizace lidské subjektivity, její prolínání s materiálním světem, hmotou a prostorem a studuje proměnlivý vztah mezi subjektem a jeho vnějškovostí, především v kontextu myšlení významného filosofa přelomu 19. a 20. století Henri Bergsona. Zkoumání prostorových struktur a jejich prolínání s lidskou subjektivitou vychází z problematického pojetí lidské subjektivity v esejích Virginie Woolfové a z jejího odmítnutí literární a filosofické tradice jejích současníků jako například Johna Galsworthyho. Ztvárnění lidské subjektivity odmítající tradiční dogmata karteziánského dualismu, tedy neproblematické rozlišení mezi dvěma základními, od sebe oddělenými res cogitans a res extensa, umožňuje Woolfové spolu s dynamickým pojetím prostoru, vzájemné prolínání těchto dvou dříve oddělených "výseků reality", jejich vzájemné prolínání a překládání. Vzniklý obraz světa jako oduševnělé matérie či materializovaného ducha, je Woolfové základním stavebním kamenem reality. Woolfová uvádí tato teoretická východiska do praxe pomocí četných formálních i obsahových experimentů, v nichž využívá obrazy vrstvení, prolínání či překládání prostorových struktur a jejich mísení (obraznému i doslovnému) se subjektivitou svých postav. Důležitou roli v těchto experimentech pak sehrávají filosofická východiska právě Bergsonovy filosofie – pojem čistého vnímání, Bergsonův nekarteziánský dualismus, role paměti, či dynamické pojetí lidské subjektivity. Výklad se opírá právě o tyto styčné body a doplňuje je o výklad založený na čtení novějších, či současných filosofů – Gastona Bachelarda (cogito snivce) a Miroslava Petříčka (rám, rámování a problematika kontinuální diskontinuity).
keywords: Virginia Woolf; Henri Bergson; short stories; space; states of mind; impersonality; memory
references (28)
1. Bachelard, Gaston (1970) The Poetics of Reverie, trans. Daniel Russell. Boston: Beacon Press.
2. Barasch, Mosche (1998) Modern Theories of Art: From Impressionism to Kandinsky, vol. 2. New York: New York University Press.
3. Bergson, Henri (1912) An Introduction to Metaphysics, trans. T. E. Hulme. New York and London: The Knickerbocker Press.
4. Bergson, Henri (1929) Matter and Memory, trans. N. M. Paul and W. S. Palmer. London and New York: Macmillan.
5. Deleuze, Gilles (1991) Bergsonism, trans. Hugh Tomlinson and Barbara Habberjam. New York: Zone Books.
6. Descartes, René (1641) Mediations on First Philosophy VI. 9, trans. Jonathan Bennett. http://www.earlymoderntexts.com/pdfs/descartes1644.pdf (accessed 12 April 2014).
7. Elliott, Anthony (1994) Psychoanalytic Theory: An Introduction. Oxford: Blackwell Publishers.
8. Foucault, Michel (1984) "Of Other Spaces, Heterotopias", trans. Jay Miskowiec. http://foucault.info/documents/heteroTopia/foucault.heteroTopia.en.html (accessed 21 October 2010).
9. Foucault, Michel (2002) The Order of Things. London and New York: Routledge.
10. Frank, Joseph (1991) The Idea of Spatial Form. New Brunswick and London: Rutgers University Press.
11. Gillespie, Diane F. (1991) The Sisters ' Arts: The Writing and Painting of Virginia Woolf and Vanessa Bell. Syracuse: Syracuse University Press.
12. Hulme, T. E. (1960) Speculations. London: Routledge.
13. Lawrence, D. H. (1970) Phoenix: The Posthumous Papers of D. H. Lawrence. London: Heinemann.
14. Matz, Jesse (2001) Literary Impressionism and Modernist Aesthetics. Cambridge: Cambridge University Press.
15. Petříček, Miroslav (2009) Myšlení obrazem. Prague: Herman & synové.
16. Rosenbaum, P. S. (ed.) (1971) English Literature and British Philosophy. Chicago: University of Chicago Press.
17. Ryan, Judith (1980) "The Vanishing Subject: Empirical Psychology and the Modern Novel." PMLA, Vol. 95, No. 5. http://www.jstor.org/stable/461762 (accessed 25 April 2012) CrossRef
18. Ryan Judith (1991) The Vanishing Subject: Early Psychology and Literary Modernism. Chicago: University of Chicago Press.
19. Woolf, Virginia (1967) A Haunted House and Other Short Stories. London: Hogarth Press.
20. Woolf, Virginia (2008b) Jacob ' s Room. Oxford: Oxford University Press.
21. Woolf, Virginia (2000) Mrs Dalloway. Oxford: Oxford University Press.
22. Woolf, Virginia (2011) Orlando. Oxford: Oxford University Press.
23. Woolf, Virginia (2009) Selected Essays. Oxford: Oxford University Press.
24. Woolf, Virginia (2003) The Complete Shorter Fiction. London: Vintage Books.
25. Woolf, Virginia (1982) The Diary of Virginia Woolf, Vol. 1–4. London: Hogarth Press.
26. Woolf, Virginia (1994) The Essays of Virginia Woolf, Vol. I–IV. London: Hogarth Press.
27. Woolf, Virginia (1990) To the Lighthouse. London: Longman Group Ltd.
28. Woolf, Virginia (2008a) The Waves. Oxford: Oxford University Press.

periodicity: 4 x per year
print price: 150 czk
ISSN: 0567-8269
E-ISSN: 2464-6830
Download