AUC KINANTHROPOLOGICA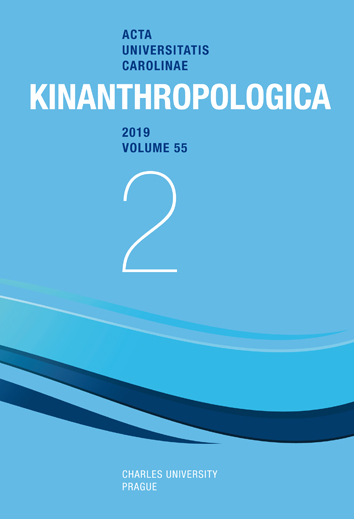 Acta Universitatis Carolinae Kinanthropologica (AUC Kinanthropologica) is an international peer reviewed journal for the publication of research outcomes in the humanities, the social sciences and the natural sciences, as applied to kinathropology. It is a multidisciplinary journal accepting only original unpublished articles in English in the various sub-disciplines and related fields of kinanthropology, such as Anthropology, Anthropomotorics, Sports Pedagogy, Sociology of Sport, Philosophy of Sport, History of Sport, Physiology of Sport And Exercise, Physical Education, Applied Physical Education, Physiotherapy, Human Biomechanics, Psychology of Sport, Sports Training and Coaching, Sport Management, etc. The journal also welcomes interdisciplinary articles. The journal also includes reports of relevant activities and reviews of relevant publications.
The journal is abstracted and indexed by CNKI, DOAJ, EBSCO, ERIH PLUS, SPOLIT, SPORTDiscus, and Ulrichsweb.
The power of sports tradition and its influence on long-standing engagement of athletes in running races
Miloš Bednář
DOI: https://doi.org/10.14712/23366052.2019.6
announced: 21. 11. 2019
abstract
Analysis of the general role of tradition formed wider theoretical background of the paper. We used hermeneutic analysis to interpret this role. We attempled to formulate own definition of tradition using the term of social time. Well-known world competitions served as an example of power of tradition in the field of sport. Special attention was paid to the Olympic movement and two parallel but different inspirations from the heritage of the ancient Olympism in the case of the Sokol sports and social movement and the Modern Olympics. In a longitudinal study we researched a group of runners who participated repeatedly in the 10K Czech race "Běchovice – Praha". It was founded in 1897 and has been held each consecutive year. Our aim was to illustrate how the tradition of one race can engage runners in lifelong physical activities. We found 322 runners who participated 20 times and more. Constancy of the route, non-stop organizing, engagement of the whole families, celebrations of anniversaries, and wider publicity were found to be factors in building loyalty to the race. We discussed some aspects of comparison with similar studies as well. Particular attention was paid to the Boston Marathon and especially to means of supporting loyalty of runners.
keywords: lifelong physical activities; long-distance running; philosophy of history; sport history
references (17)
1. Ahmadyar, B., et al. (2016). Improved race times in marathoners older than 75 years in the last 25 years in the world's largest marathons. The Chinese Journal of Physiology, 59(3), 139-147. CrossRef PubMed
2. Bednář, M. (2011). Běchovice: tradice, kult i motivace (Běchovice: tradition, cult and motivation). Prague: European Science and Art Publishing.
3. Bednář, M., & Malinauskas, R. (2014). Sport as the basic contents of leisure in biodromal perspective: an example of long-distance runners. Baltic Journal of Sports & Health Sciences, 47(4), 2-8. CrossRef
4. Brand, M. (2006). The role and value of intercollegiate athletics in universities. Journal of the Philosophy of Sport, 33(1), 17. CrossRef
5. Burdina, M., Hiller, S. R., & Metz, N. E. (2017). Goal attainability and performance: evidence from Boston Marathon qualifying standards. Journal of Economic Psychology, 58 (February), 77-88. CrossRef
6. Coubertin, P. de (2000). Olympism: selected writings, ed. Norbert Müller. Lausanne: International Olympic Committee.
7. Deci, E. L., & Ryan, R. M. (1985). Intrinsic motivation and self-determination in human behaviour. New York: Plenum. CrossRef
8. Elchardus, M. (1988). The rediscovery of Chronos: the new role of time in sociological theory. International Sociology, 3(1), 35-59. CrossRef
9. Gadamer, H.-G. (2004). Truth and method. New York: Crossroad.
10. Giddens, A. (1994). Living in a Post-traditional Society. In: Beck, U., Giddens, A., & Lash, S. (Eds.), Reflexive modernization: politics, tradition and aesthetics in the modern social order (pp. 56-109). Cambridge: Polity Press.
11. Havens, T. R. H. (2015). Marathon Japan: distance racing and civic culture. Honolulu: University of Hawai Press. CrossRef
12. Hobsbawm, E., & Ranger, T. (Eds.) (1992). The invention of tradition. Cambridge: University Press.
13. Kretchmar, S. R. (2005). Practical philosophy of sport and physical activity. Champaign, IL: Human Kinetics.
14. Maffetone, P. B., et al. (2017). The Boston Marathon versus the World Marathon Majors. PLoS One, 12(9), e0184024. CrossRef PubMed PubMed Central
15. McGillivray, D. (2017). The Quarter Century Club of the Boston Marathon. The Streak Registry, 17(2), 9-14. PubMed Central
16. Nolte, C. E. (2009). Our brothers across the ocean: The Czech Sokol in America to 1914. International Journal of the History of Sport, 26(13), 1963-1982. CrossRef PubMed Central
17. Shils, E. (1981). Tradition. London and Boston: Faber & Faber. PubMed Central

The power of sports tradition and its influence on long-standing engagement of athletes in running races is licensed under a Creative Commons Attribution 4.0 International License.
157 x 230 mm
published: 2 x per year
print price: 190 czk
ISSN: 1212-1428
E-ISSN: 2336-6052
Download