AUC KINANTHROPOLOGICA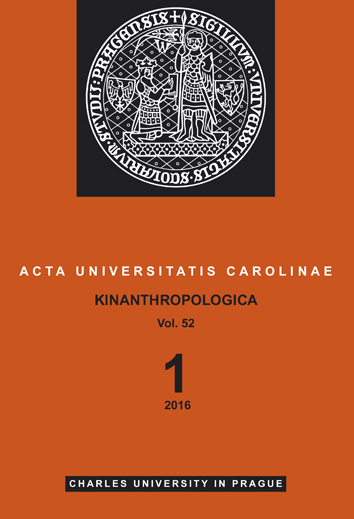 Acta Universitatis Carolinae Kinanthropologica (AUC Kinanthropologica) is an international peer reviewed journal for the publication of research outcomes in the humanities, the social sciences and the natural sciences, as applied to kinathropology. It is a multidisciplinary journal accepting only original unpublished articles in English in the various sub-disciplines and related fields of kinanthropology, such as Anthropology, Anthropomotorics, Sports Pedagogy, Sociology of Sport, Philosophy of Sport, History of Sport, Physiology of Sport And Exercise, Physical Education, Applied Physical Education, Physiotherapy, Human Biomechanics, Psychology of Sport, Sports Training and Coaching, Sport Management, etc. The journal also welcomes interdisciplinary articles. The journal also includes reports of relevant activities and reviews of relevant publications.
The journal is abstracted and indexed by CNKI, DOAJ, EBSCO, ERIH PLUS, SPOLIT, SPORTDiscus, and Ulrichsweb.
Who was the better athlete? Which was the better team?
Mika Hämäläinen
DOI: https://doi.org/10.14712/23366052.2016.1
announced: 26. 09. 2016
abstract
Often, there is disagreement about who is the better athlete, or the better team. The aim of this paper is to clarify a recent disagreement between the author (Mika Hämäläinen) and Arvi Pakaslahti about different views of 'betterness' in sport competitions. I introduced a 'three criteria' model of betterness, which suggested the following three criteria: the official result, the ideally adjudicated result and the display of athletic skills. Pakaslahti criticised my account and introduced his own model, which has two built-in ideals of sport competitions: the Athletic Superiority Ideal and the Just Results Ideal. I argue that when we look behind the terminological differences, there is surprisingly little genuine disagreement between my account and Pakaslahti's.
keywords: philosophy of sport; betterness in sport; athletic superiority
references (9)
1. D'Agostino, F. (1981). The Ethos of Games. Journal of the Philosophy of Sport, 8(1), 7–18. CrossRef
2. Dixon, N. (1999). On Winning and Athletic Superiority. Journal of the Philosophy of Sport, 26(1), 10–26. CrossRef
3. Hardman, A. R. (2009). Sport, moral interpretivism, and football's voluntary suspension of play norm. Sport, Ethics and Philosophy, 3(1), 49–56. CrossRef
4. Hämäläinen, M. (2015). The Concept of Betterness and Sport Competitions [Doctoral dissertation]. Reports from the Department of Philosophy 31. Turku: University of Turku. Accessed 16th of May 2015 http://urn.fi/URN.
5. Hämäläinen, M. (2014). Three Standards of Athletic Superiority. Journal of the Philosophy of Sport, 41(3), 289–302. CrossRef
6. Mumford, S. (2010). Breaking it or Faking it? Some Critical Thoughts on the Voluntary Suspension of Play and Six Proposed Revisions. Sport, Ethics and Philosophy, 4(3), 254–268. CrossRef
7. Pakaslahti, A. (2016). Betterness, injustice and failed athletic contests. Journal of the Philosophy of Sport, 43(2), 281–293. CrossRef
8. Simon, R. L. (2014). Theories of Sport. In: C. R. Torres (Ed.), The Bloomsbury Companion to the Philosophy of Sport (pp. 83–97). London: Bloomsbury. CrossRef
9. Suits, B. (2010). Construction of a Definition. In: M. McNamee (Ed.), The Ethics of Sports. A Reader (pp. 17–28). London and New York: Routledge.
157 x 230 mm
published: 2 x per year
print price: 190 czk
ISSN: 1212-1428
E-ISSN: 2336-6052
Download