AUC KINANTHROPOLOGICA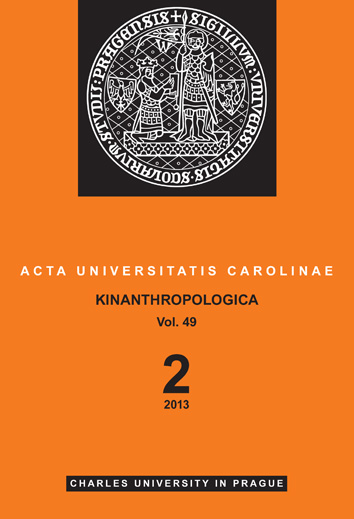 Acta Universitatis Carolinae Kinanthropologica (AUC Kinanthropologica) is an international peer reviewed journal for the publication of research outcomes in the humanities, the social sciences and the natural sciences, as applied to kinathropology. It is a multidisciplinary journal accepting only original unpublished articles in English in the various sub-disciplines and related fields of kinanthropology, such as Anthropology, Anthropomotorics, Sports Pedagogy, Sociology of Sport, Philosophy of Sport, History of Sport, Physiology of Sport And Exercise, Physical Education, Applied Physical Education, Physiotherapy, Human Biomechanics, Psychology of Sport, Sports Training and Coaching, Sport Management, etc. The journal also welcomes interdisciplinary articles. The journal also includes reports of relevant activities and reviews of relevant publications.
The journal is abstracted and indexed by CNKI, DOAJ, EBSCO, ERIH PLUS, SPOLIT, SPORTDiscus, and Ulrichsweb.
Time and Corporeality
Anna Hogenová
DOI: https://doi.org/10.14712/23366052.2014.2
announced: 23. 07. 2014
abstract
The text emphasizes the difference between Aristotelian and Heideggerian concepts of time in relation to the issue of corporeality and sport. Čas a tělesnost Tento text zdůrazňuje rozdíl mezi aristotelským a heideggerovským pojmem času ve vztahu k tématu tělesnosti a sportu.
keywords: Aristotelian time; successivity; Heideggerian temporality; adoration of performance; body; corporeality; aristotelský čas; sukcesivita; heideggerovská temporalita; obdiv výkonnosti; tělo; tělesnost
references (2)
1. Heidegger, M. (2012). Der Anfang der abendlaendischen Philosophie. Frankfurt am Main: Vittorio Klostermann.
2. Heidegger, M. (1969). Zur Sache des Denkens. Tuebingen: Max Niemayer.
157 x 230 mm
published: 2 x per year
print price: 190 czk
ISSN: 1212-1428
E-ISSN: 2336-6052
Download