AUC KINANTHROPOLOGICA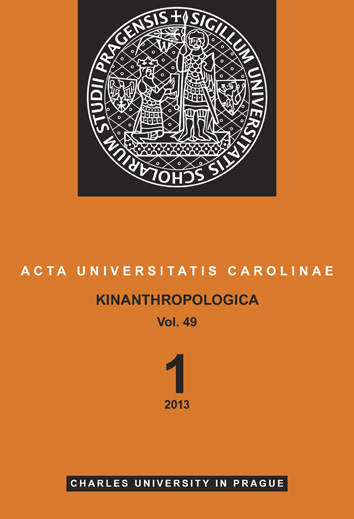 Acta Universitatis Carolinae Kinanthropologica (AUC Kinanthropologica) is an international peer reviewed journal for the publication of research outcomes in the humanities, the social sciences and the natural sciences, as applied to kinathropology. It is a multidisciplinary journal accepting only original unpublished articles in English in the various sub-disciplines and related fields of kinanthropology, such as Anthropology, Anthropomotorics, Sports Pedagogy, Sociology of Sport, Philosophy of Sport, History of Sport, Physiology of Sport And Exercise, Physical Education, Applied Physical Education, Physiotherapy, Human Biomechanics, Psychology of Sport, Sports Training and Coaching, Sport Management, etc. The journal also welcomes interdisciplinary articles. The journal also includes reports of relevant activities and reviews of relevant publications.
The journal is abstracted and indexed by CNKI, DOAJ, EBSCO, ERIH PLUS, SPOLIT, SPORTDiscus, and Ulrichsweb.
Selected Problems with Diagnostics of Sarcopenia in Long-term-care Facilities for the Elderly
Michal Šteffl, Veronika Houdová, Miroslav Petr, Eva Kohlíková, Iva Holmerová
DOI: https://doi.org/10.14712/23366052.2014.12
announced: 23. 05. 2014
abstract
Selected Problems with Diagnostics of Sarcopenia in Long-term-care Facilities for the Elderly As the current population gets older, we are learning that some of the diseases and conditions which were formerly perceived as a natural part of the ageing process are actually preventable and curable. Sarcopenia is one of these; it is currently one of the most challenging problems of clinical gerontology. Sarcopenia is a geriatric syndrome that presents as gradual muscle mass loss and decreases in physical performance. It is one of the important factors of frailty. Its treatment is as any other treatment highly dependent on the correct diagnostics. Nevertheless, it seems that latest guidelines for sarcopenia diagnostics considerably neglect real conditions in a number of medical facilities for the elderly, despite the vast increase in the number of studies on its prevalence and the options of sarcopenia treatment carried out in recent years. In this mini review, we shall discuss various diagnostic methods and the possibilities of their real use in clinical practice for the institutionalized elderly. Vybrané problémy s diagnostikou sarcopenia v ústavech dlouhodobé péče pro seniory Protože současná populace stárne, stávají se některé nemocí, které byly dříve vnímány jako přirozená součást procesu stárnutí, významnou výzvou pro vědeckou společnost. Sarcopenia je jednou z těchto nemocí. V současné době je sarkopenie jedním z nejnáročnějších problémů klinické gerontologie. Sarcopenia je geriatrický syndrom, který se projevuje postupnou ztrátou svalové hmoty, silové schopnosti a snížením fyzické výkonnosti. Je to jeden z důležitých faktorů stařecké křehkosti. Její léčba je tak jako jakákoliv jiná léčba vysoce závislá na správné diagnostice. Přesto se zdá, že poslední pokyny pro diagnostiku sarkopenie výrazně zanedbávají skutečné podmínky v řadě zdravotnických zařízení pro seniory a to navzdory obrovskému zvýšení počtu studií zabývajících se prevalencí a možnostmi léčby sarcopenie, které byly provedené v posledních letech. V této mini recenzi budeme diskutovat o různých diagnostických metodách a možnostech jejich skutečného použití v klinické praxi při léčbě sarkopeníí ohrožených institucionalizovaných seniorů.
keywords: aging; muscular atrophy; diagnostic techniques; sarcopenia; institutionalized elderly stárnutí; svalová atrofie; diagnostické metody; sarcopenie; institucionalizovaní senioři
references (47)
1. Abellan Van Kan, G., Y. Rolland, S. Andrieu, J. Bauer, et al. (2009). Gait speed at usual pace as a predictor of adverse outcomes in community-dwelling older people an International Academy on Nutrition and Aging (IANA) Task Force. J Nutr Health Aging, 13(10), 881–889. CrossRef
2. Allison, D. B., D. Gallagher, M. Heo, F. X. Pi-Sunyer, et al. (1997). Body mass index and all-cause mortality among people age 70 and over: the Longitudinal Study of Aging. Int J Obes Relat Metab Disord, 21(6), 424–431. CrossRef PubMed
3. Bauer, J. M., M. J. Kaiser, C. C. Sieber (2008). Sarcopenia in nursing home residents. J Am Med Dir Assoc, 9(8), 545–551. CrossRef PubMed
4. Berg, K. O., S. L. Wood-Dauphinee, J. I. Williams, B. Maki (1992). Measuring balance in the elderly: validation of an instrument. Can J Public Health, 83 Suppl 2, S7–11. PubMed
5. Berger, M. J., T. J. Doherty (2010). Sarcopenia: prevalence, mechanisms, and functional consequences. Interdiscip Top Gerontol, 37, 94–114. CrossRef PubMed
6. Bohannon, R. W. (2009). Body weight-normalized knee extension strength explains sit-to-stand independence: a validation study. J Strength Cond Res, 23(1), 309–311. CrossRef PubMed
7. Bohannon, R. W. (2012). Hand-held dynamometry: A practicable alternative for obtaining objective measures of muscle strength. Isokinetics and Exercise Science, 20(4), 301–315.
8. Bouchard, D. R., I. J. Dionne, M. Brochu (2009). Sarcopenic/obesity and physical capacity in older men and women: data from the Nutrition as a Determinant of Successful Aging (NuAge)-the Quebec longitudinal Study. Obesity (Silver Spring), 17(11), 2082–2088. CrossRef PubMed
9. Buford, T. W., S. D. Anton, A. R. Judge, E. Marzetti, et al. (2010). Models of accelerated sarcopenia: critical pieces for solving the puzzle of age-related muscle atrophy. Ageing Res Rev, 9(4), 369–383. CrossRef PubMed
10. Buford, T. W., D. J. Lott, E. Marzetti, S. E. Wohlgemuth, et al. (2012). Age-related differences in lower extremity tissue compartments and associations with physical function in older adults. Exp Gerontol, 47(1), 38–44. CrossRef PubMed
11. Bunout, D., M. P. De La Maza, G. Barrera, L. Leiva, et al. (2011). Association between sarcopenia and mortality in healthy older people. Australas J Ageing, 30(2), 89–92. CrossRef PubMed
12. Burton, L. A., D. Sumukadas (2010). Optimal management of sarcopenia. Clin Interv Aging, 5, 217–228. PubMed
13. Castillo, E. M., D. Goodman-Gruen, D. Kritz-Silverstein, D. J. Morton, et al. (2003). Sarcopenia in elderly men and women: The Rancho Bernardo study. Am J Prev Med, 25(3), 226–231. CrossRef
14. Clark, D. J., C. Patten, K. F. Reid, R. J. Carabello, et al. (2011). Muscle performance and physical function are associated with voluntary rate of neuromuscular activation in older adults. J Gerontol A Biol Sci Med Sci, 66(1), 115–121. CrossRef PubMed
15. Conable, K. M., A. L. Rosner (2011). A narrative review of manual muscle testing and implications for muscle testing research. J Chiropr Med, 10(3), 157–165. CrossRef
16. Cruz-Jentoft, A. J., J. P. Baeyens, J. M. Bauer, Y. Boirie, et al. (2010). Sarcopenia: European consensus on definition and diagnosis: Report of the European Working Group on Sarcopenia in Older People. Age Ageing, 39(4), 412–423. CrossRef PubMed
17. di Monaco, M., F. Vallero, R. Di Monaco, R. Tappero (2011). Prevalence of sarcopenia and its association with osteoporosis in 313 older women following a hip fracture. Arch Gerontol Geriatr, 52(1), 71–74. CrossRef PubMed
18. Evans, E. M., M. M. Misic, D. M. Mallard, 2010. A technique to assess body composition and sarcopenia using DXA: application for an obese population. Eur J Clin Nutr, 64(2), 218–220. CrossRef PubMed
19. Fielding, R. A., B. Vellas, W. J. Evans, S. Bhasin, et al. (2011). Sarcopenia: an undiagnosed condition in older adults. Current consensus definition: prevalence, etiology, and consequences. International working group on sarcopenia. J Am Med Dir Assoc, 12(4), 249–256. CrossRef PubMed
20. Gallagher, D., M. Delegge (2011). Body composition (sarcopenia) in obese patients: implications for care in the intensive care unit. JPEN J Parenter Enteral Nutr, 35(5 Suppl), 21S–28S. CrossRef PubMed
21. Guralnik, J. M., L. Ferrucci, E. M. Simonsick, M. E. Salive, et al. (1995). Lower-extremity function in persons over the age of 70 years as a predictor of subsequent disability. N Engl J Med, 332(9), 556–561. CrossRef PubMed
22. Hairi, N. N., R. G. Cumming, V. Naganathan, D. J. Handelsman, et al. (2010). Loss of muscle strength, mass (sarcopenia), and quality (specific force) and its relationship with functional limitation and physical disability: the Concord Health and Ageing in Men Project. J Am Geriatr Soc, 58(11), 2055–2062. CrossRef PubMed
23. Hedayati, K. K., M. Dittmar (2010). Prevalence of sarcopenia among older community-dwelling people with normal health and nutritional state. Ecol Food Nutr, 49(2), 110–128. CrossRef PubMed
24. Hughes, V. A., R. Roubenoff, M. Wood, W. R. Frontera, et al. (2004). Anthropometric assessment of 10-y changes in body composition in the elderly. Am J Clin Nutr, 80(2), 475–482. PubMed
25. Chen, Z., Z. Wang, T. Lohman, S. B. Heymsfield, et al. (2007). Dual-energy X-ray Absorptiometry is a valid tool for assessing skeletal muscle mass in older women. J Nutr, 137(12), 2775–2780. PubMed
26. Chien, M. Y., T. Y. Huang, Y. T. Wu (2008). Prevalence of sarcopenia estimated using a bioelectricalimpedance analysis prediction equation in community-dwelling elderly people in Taiwan. J Am Geriatr Soc, 56(9), 1710–1715. CrossRef PubMed
27. Chien, M. Y., H. K. Kuo, Y. T. Wu (2010). Sarcopenia, Cardiopulmonary Fitness, and Physical Disability in Community-Dwelling Elderly People. Phys Ther, 90(9), 1277–1287. CrossRef PubMed
28. Chumlea, W. C., R. N. Baumgartner (1989). Status of anthropometry and body composition data in elderly subjects. Am J Clin Nutr, 50(5), 1158–1166. PubMed
29. Janssen, I., S. B. Heymsfield, R. N. Baumgartner, R. Ross (2000). Estimation of skeletal muscle mass by bioelectrical impedance analysis. J Appl Physiol, 89(2), 465–471. PubMed
30. Jelen, K., F. Lopot, S. Budka, V. Novacek, et al. (2008). Rheological properties of myometrium: Experimental quantification and mathematical modeling. Neuro Endocrinol Lett, 29(4), 454–460. PubMed
31. Kim, T. N., S. J. Yang, H. J. Yoo, K. I. Lim, et al. (2009). Prevalence of sarcopenia and sarcopenic obesity in Korean adults: the Korean sarcopenic obesity study. Int J Obes (Lond), 33(8), 885–892. CrossRef PubMed
32. Landi, F., R. Liperoti, D. Fusco, S. Mastropaolo, et al. (2012). Prevalence and risk factors of sarcopenia among nursing home older residents. J Gerontol A Biol Sci Med Sci, 67(1), 48–55. CrossRef PubMed
33. Landi, F., A. Russo, R. Liperoti, M. Pahor, et al. (2010). Midarm muscle circumference, physical performance and mortality: results from the aging and longevity study in the Sirente geographic area (ilSIRENTE study). Clin Nutr, 29(4), 441–447. CrossRef PubMed
34. Lee, J. S., T. W. Auyeung, T. Kwok, E. M. Lau, et al. (2007). Associated factors and health impact of sarcopenia in older chinese men and women: a cross-sectional study. Gerontology, 53(6), 404–410. CrossRef PubMed
35. Marzetti, E., H. A. Lees, T. M. Manini, T. W. Buford, et al. (2012). Skeletal muscle apoptotic signaling predicts thigh muscle volume and gait speed in community-dwelling older persons: an exploratory study. PLoS ONE, 7(2), e32829. CrossRef PubMed
36. Miller, D. K., T. K. Malmstrom, E. M. Andresen, J. P. Miller, et al. (2009). Development and validation of a short portable sarcopenia measure in the African American health project. J Gerontol A Biol Sci Med Sci, 64(3), 388–394. CrossRef PubMed
37. Muscaritoli, M., S. D. Anker, J. Argiles, Z. Aversa, et al. (2010). Consensus definition of sarcopenia, cachexia and pre-cachexia: joint document elaborated by Special Interest Groups (SIG) "cachexiaanorexia in chronic wasting diseases" and "nutrition in geriatrics". Clin Nutr, 29(2), 154–159. CrossRef PubMed
38. Pahor, M., T. Manini, M. Cesari (2009). Sarcopenia: clinical evaluation, biological markers and other evaluation tools. J Nutr Health Aging, 13(8), 724–728. CrossRef PubMed PubMed Central
39. Podsiadlo, D., S. Richardson (1991). The timed "Up & Go": a test of basic functional mobility for frail elderly persons. J Am Geriatr Soc, 39(2), 142–148. CrossRef PubMed PubMed Central
40. Rolland, Y., V. Lauwers-Cances, M. Cournot, F. Nourhashemi, et al. (2003). Sarcopenia, calf circumference, and physical function of elderly women: a cross-sectional study. J Am Geriatr Soc, 51(8), 1120–1124. CrossRef PubMed PubMed Central
41. Rosenberg, I. H. (1989). Epidemiologic and Methodologic Problems in Determining Nutritional-Status of Older Persons – Proceedings of a Conference Held in Albuquerque, New Mexico, October 19–21, 1988 – Summary Comments. Am J Clin Nutr, 50(5), 1231–1233. PubMed Central
42. Sanada, K., M. Miyachi, M. Tanimoto, K. Yamamoto, et al. (2010). A cross-sectional study of sarcopenia in Japanese men and women: reference values and association with cardiovascular risk factors. Eur J Appl Physiol, 110(1), 57–65. CrossRef PubMed PubMed Central
43. Schaubert, K. L., R. W. Bohannon (2005). Reliability and validity of three strength measures obtained from community-dwelling elderly persons. J Strength Cond Res, 19(3), 717–720. CrossRef PubMed PubMed Central
44. Schmitt, W. H., JR., S. C. Cuthbert (2008). Common errors and clinical guidelines for manual muscle testing: "the arm test" and other inaccurate procedures. Chiropr Osteopat, 16, 16. CrossRef PubMed PubMed Central
45. Spink, M. J., M. R. Fotoohabadi, H. B. Menz (2010). Foot and ankle strength assessment using handheld dynamometry: reliability and age-related differences. Gerontology, 56(6), 525–532. CrossRef PubMed PubMed Central
46. Steffen, T. M., T. A. Hacker, L. Mollinger (2002). Age- and gender-related test performance in community-dwelling elderly people: Six-Minute Walk Test, Berg Balance Scale, Timed Up & Go Test, and gait speeds. Phys Ther, 82(2), 128–137. PubMed PubMed Central
47. Woods, J. L., S. Iuliano-Burns, S. J. King, B. J. Strauss, et al. (2011). Poor physical function in elderly women in low-level aged care is related to muscle strength rather than to measures of sarcopenia. Clin Interv Aging, 6, 67–76. PubMed PubMed Central
157 x 230 mm
published: 2 x per year
print price: 190 czk
ISSN: 1212-1428
E-ISSN: 2336-6052
Download