AUC IURIDICA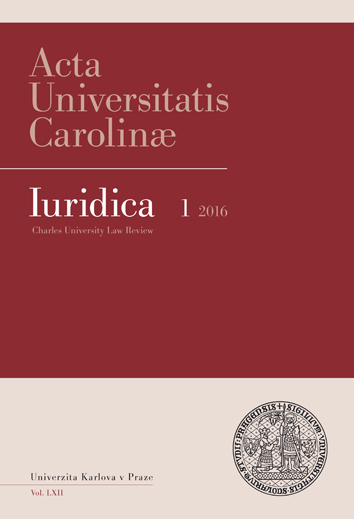 Acta Universitatis Carolinae Iuridica (AUC Iuridica) is a legal journal published since 1955, which presents longer essays as well as short articles on topics relevant for legal theory and international, European and Czech law. It also publishes works concerning current legislative problems.
Although intended primarily for domestic audience, AUC Iuridica is useful also for foreign experts, who can take advantage of summaries in foreign languages (English, German and French) and key words, which are systematically added to the main articles and essays.
The published articles are subject to peer reviews. If necessary, reviewed texts are sent back to the author for revision.
AUC Iuridica accepts contributions from any contributor on any current legal topic.
The journal is registered in the Czech National Bibliography (kept by the National Library of the Czech Republic) and in the Index to Foreign Legal Periodicals (kept by the American Association of Law Libraries).
The journal is archived in Portico.
Stín kolonialismu: Dodnes složité vztahy mezi Německem a Namibií
[The Shadow of Colonialism: Complicated Relations between Germany and Namibia Today]
Lukáš Novotný
announced: 23. 05. 2016
abstract
Relations between Germany and Namibia are still heavily influenced by colonialism. As part of the scramble for Africa in the 1880's, the German Empire came to what is now Namibia and created German South-West Africa. Germany remained the colonial power of the territory until 1915. The period of colonial rule was marked by the genocides of the Hereros and the Namas tribes. This article focuses on the current political climate within Federal Republic Germany and how the nation is dealing with the difficulties of its colonial past. It is clear how strained relations are between the colonizer and the former colony. It should be noted that Germany has undertaken reconciliatory steps this year (which marks the 100th anniversary of the end of German rule over Namibia) in order to deal with its history.
keywords: Germany; Namibia; genocide; colonialism; German South-West Africa Německo; Namibie; genocida; kolonialismus; Německá jihozápadní Afrika

Stín kolonialismu: Dodnes složité vztahy mezi Německem a Namibií is licensed under a Creative Commons Attribution 4.0 International License.
230 x 157 mm
published: 4 x per year
print price: 65 czk
ISSN: 0323-0619
E-ISSN: 2336-6478
Download