AUC IURIDICA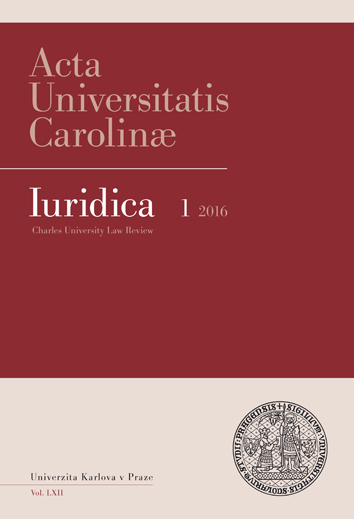 Acta Universitatis Carolinae Iuridica (AUC Iuridica) is a legal journal published since 1955, which presents longer essays as well as short articles on topics relevant for legal theory and international, European and Czech law. It also publishes works concerning current legislative problems.
Although intended primarily for domestic audience, AUC Iuridica is useful also for foreign experts, who can take advantage of summaries in foreign languages (English, German and French) and key words, which are systematically added to the main articles and essays.
The published articles are subject to peer reviews. If necessary, reviewed texts are sent back to the author for revision.
AUC Iuridica accepts contributions from any contributor on any current legal topic.
The journal is registered in the Czech National Bibliography (kept by the National Library of the Czech Republic) and in the Index to Foreign Legal Periodicals (kept by the American Association of Law Libraries).
The journal is archived in Portico.
The Rights of Indigenous Peoples in the Light of International Human Rights Law
Harald Christian Scheu, Luisa María Villa Yepes
announced: 23. 05. 2016
abstract
In this paper the authors deals with the concept of the protection of indigenous peoples and minorities from the perspective of international human rights law and the international protection of minorities. First, a brief introduction to the definition of indigenous and other ethnic (national) minorities is presented, followed by a discussion of the reasons for the particular vulnerability of indigenous populations. In addition to the complex legacy of colonialism we have to consider the current context of climate change and environmental destruction and their impact on the traditional way of life of indigenous communities. The third part of this paper deals with the question to what extent the interpretation of the right of indigenous peoples to self-determination has been influenced by human rights paternalism. It is clear that a human rights argument may under certain circumstances introduce a new form of colonial domination.
keywords: human rights; minority definition; protection of indigenous peoples; environment; human rights paternalism lidská práva; definice etnických menšin; ochrana indigenních národů; životní prostředí; lidskoprávní paternalismus

The Rights of Indigenous Peoples in the Light of International Human Rights Law is licensed under a Creative Commons Attribution 4.0 International License.
230 x 157 mm
published: 4 x per year
print price: 65 czk
ISSN: 0323-0619
E-ISSN: 2336-6478
Download