AUC GEOGRAPHICA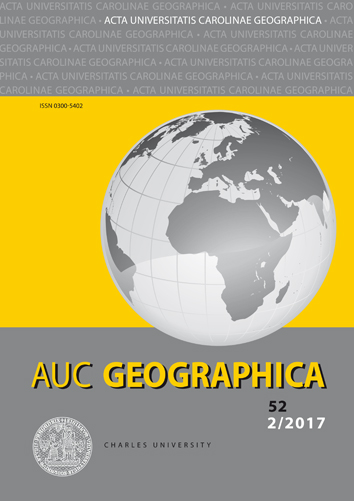 AUC Geographica (Acta Universitatis Carolinae Geographica) is a scholarly academic journal continuously published since 1966 that publishes research in the broadly defined field of geography: physical geography, geo-ecology, regional, social, political and economic geography, regional development, cartography, geoinformatics, demography and geo-demography.
AUC Geographica also publishes articles that contribute to advances in geographic theory and methodology and address the questions of regional, socio-economic and population policy-making in Czechia.
Periodical twice yearly.
Release dates: June 30, December 31
All articles are licenced under Creative Commons Attribution 4.0 International licence (CC BY 4.0), have DOI and are indexed in CrossRef database.
AUC Geographica is covered by the following services: EBSCO, GeoBibline, SCOPUS, Ulrichsweb and Directory of Open Access Journals (DOAJ).
The journal has been covered in the SCOPUS database since 1975 – today
https://www.scopus.com/source/sourceInfo.uri?sourceId=27100&origin=recordpage
The journal has been selected for coverage in Clarivate Analytics products and services. Beginning with V. 52 (1) 2017, this publication will be indexed and abstracted in Emerging Sources Citation Index.
The journal has been indexed by the Polish Ministry of Science and Higher Education (MSHE) on the list of scientific journals recommended for authors to publish their articles. ICI World of Journals; Acta Universitatis Carolinae, Geographica.
Scopus Journal Metric
SJR (SCImago Journal Rank) (2020): 0.193
SNIP (Source Normalized Impact per Paper) (2020): 0.842
CiteScore (2020): 1.00
The journal is archived in Portico.
Monitoring water quality parameters of Lake Koronia by means of long time-series multispectral satellite images
Triantafyllia-Maria Perivolioti, Antonios Mouratidis, Dimitra Bobori, Georgia Doxani, Dimitrios Terzopoulos
DOI: https://doi.org/10.14712/23361980.2017.14
announced: 04. 10. 2017
abstract
In this study, a comprehensive 30-year (1984–2016) water quality parameter database for Lake Koronia – one of the most important Ramsar wetlands of Greece – was compiled from Landsat imagery. The reliability of the data was evaluated by comparing water Quality Element (QE) values computed from Landsat data against in situ data. Water quality algorithms developed from previous studies, specifically for the determination of Water Temperature and pH, were applied to Landsat images. In addition, Water Depth, as along with the distribution of floating vegetation and cyanobacterial blooms, were mapped. The performed comprehensive analysis posed certain questions regarding the applicability of single empirical models across multi-temporal, multi-sensor datasets, towards the accurate prediction of key water quality indicators for shallow inland systems. Overall, this assessment demonstrates that despite some limitations, satellite imagery can provide an accurate means of obtaining comprehensive spatial and temporal coverage of key water quality characteristics.
keywords: Lake Koronia; Landsat; water quality; Water Framework Directive

Monitoring water quality parameters of Lake Koronia by means of long time-series multispectral satellite images is licensed under a Creative Commons Attribution 4.0 International License.
210 x 297 mm
published: 2 x per year
print price: 200 czk
ISSN: 0300-5402
E-ISSN: 2336-1980
Download