ACTA MEDICA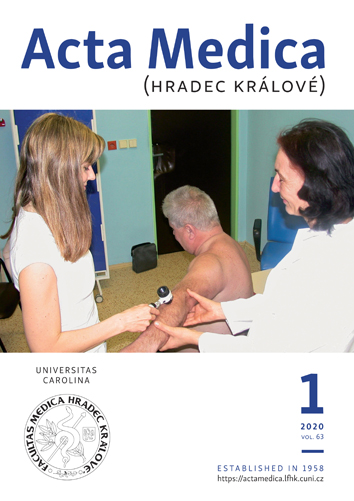 Acta Medica (Hradec Králové) is an English language multidisciplinary medical journal. Acta Medica publishes reviews, original articles, brief communications, case reports, announcements, and notices. The journal was founded in 1958 under the title "A Collection of Scientific Works of the Charles University's Faculty of Medicine in Hradec Králové". The journal is indexed in Chemical Abstracts, CNKI, DOAJ, EBSCO, Hinari, Index Medicus, MEDLINE, Scopus, and Ulrichsweb.
Interdisciplinary Management of Visceral Artery Aneurysms and Visceral Artery Pseudoaneurysms
Peter Berek, Ivan Kopolovets, Csaba Dzsinich, Juraj Bober, Peter Štefanič, Vladimír Sihotský
DOI: https://doi.org/10.14712/18059694.2020.14
announced: 18. 05. 2020
abstract
The paper presents the results of treating 14 patients, namely eight patients with visceral artery aneurysms and six patients with visceral artery pseudoaneurysms. In 64.3% of the patients, the initial diagnosis was made based on the ultrasound examination. All the patients (100%) underwent CT angiography, while angiography was performed in 71.4% of the cases. Five (35.7%) patients with visceral artery pseudoaneurysms were emergently hospitalized; among them, the signs of bleeding were observed in 2 patients. In 9 patients, pathology was detected during tests for other conditions. Five (35.7%) patients underwent endovascular treatment, while 9 (64.3%) patients received surgical treatment. Endovascular interventions and open surgery demonstrated a nil mortality rate. After endovascular treatment, stent thrombosis was found in 1 patient. In the case of surgical treatment, visceral artery aneurysm was observed in 1 patient who underwent the resection of superior mesenteric artery pseudoaneurysm. Conclusions. The choice of the method of treating visceral artery aneurysms and visceral artery pseudoaneurysms depends on the location, size, anatomic features of the visceral arteries and the clinical course of the disease. Both endovascular and surgical treatment demonstrate good postoperative outcomes. Visceral ischemia is one of the most serious complications in the postoperative period, which can complicate both the diagnosis and the choice of treatment tactics.
keywords: visceral artery pseudoaneurysm; visceral artery aneurysms; rupture risk; hemorrhage; visceral ischemia

Interdisciplinary Management of Visceral Artery Aneurysms and Visceral Artery Pseudoaneurysms is licensed under a Creative Commons Attribution 4.0 International License.
210 x 297 mm
published: 4 x per year
print price: 150 czk
ISSN: 1211-4286
E-ISSN: 1805-9694
Download