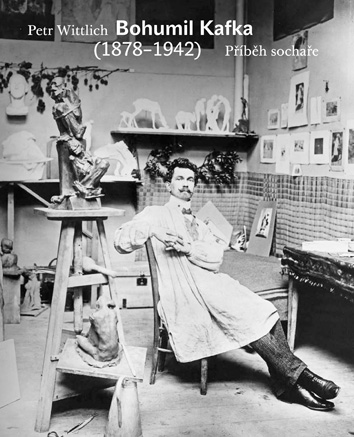 Bohumil Kafka. Příběh sochaře (1878-1942).
[A Sculptor's Story (1878-1942)]
subjects: art

paperback, 292 pp., 1. edition
published: november 2014
ISBN: 978-80-246-2614-7
recommended price: 375 czk
summary
This monograph, dedicated to Bohumil Kafka (1878–1942), is seminal, in some respects even surprising, for understanding the work of this leading representative of Czech figural sculpture of the first half of the 20th century and its context.
The first, more extensive part of the book focuses on the artistic and personal story of this sculptor, who was significantly influenced by French art. This part closes with a chapter devoted to Kafka's five impressive monuments, with Jan Žižka's equestrian statue being the most famous and visible, situated on Prague's Vítkov Hill. In the second part, the scholar, demonstrating his in-depth knowledge, introduces Czech sculpture of the first half of the 20th century and its European context. Supplementary texts include examples of Kafka's texts, interesting testimony of the artist's diplomatic struggle with the world of Czech politics.
This brilliant text, written by Petr Wittlich, an expert on European art at the turn of the 19th and 20th century, is accompanied by about 200 reproductions and photographs of the sculptor's works, and extensive overview of bibliographic information, detailed bibliography, English resume and an index. Graphic layout by Zdeněk Ziegler.