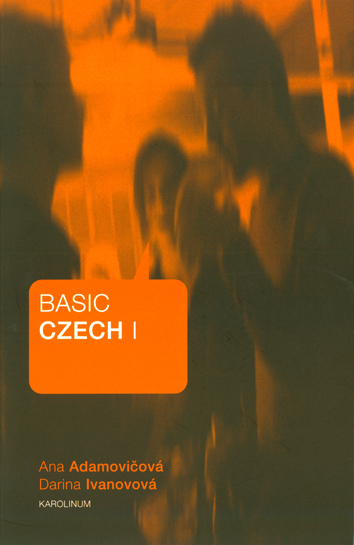 Basic Czech I
Adamovičová, Ana – Ivanovová, Darina
subjects: language textbooks, language textbooks – Czech
series: Basic Czech

e-book, 1. edition
published: may 2021
ISBN: 978-80-246-4886-6
e-book formats PDF
recommended price: 270 czk
summary
Basic Czech I, a modern textbook of Czech as a foreign language with English explanations, is the first in the Basic Czech series. Based on a comparative approach and focusing on communication aspects, it aims to teach the essentials of the Czech grammar in close connection with common lexical topics and situations. Grammar thus becomes a tool that enables effective communication in carefully selected situations of everyday interactions. The use of English as the language of presentation is limited to the necessary explanations, which makes the textbook a suitable material for use both in the classroom and self-study. To facilitate the acquisition of the covered course material, the book contains clearly arranged charts as well as many humorous dialogues. The audio, key to exercises and supplementary materials on both grammar and conversation are available at this website.
Basic Czech I corresponds to the A1 level of the Common European Framework of References for Languages.

Archive with audio tracks.
table of contents
LESSON 1
Pronunciation
The Czech alphabet
Some important signs and notices
The verb ?to be?
Where...from? What? Who?
Nouns - Gender
A town
Where?
Vocabulary

LESSON 2
My room
What is...like? Which?
Colours, Fruits
I like
The/this; One
Whose? Possessive pronouns
Cardinal numerals
How much ? many?
The verb ?to have?
Furniture and furnishings
Vocabulary

LESSON 3
In the restaurant
Present tense - 1st type
Present tense - 2nd type
Accusative singular
Few words about adjectives
Few words about adverbs
Ways of saying ?I know?
Ordinal numerals
Days of a week
When?
Menu
Food
Vocabulary

LESSON 4
In the shop
The nominative and accusative plural
Present tense - 3rd type
Study and work
A few dates from the Czech history
Why? - Because
I like / I don´t like to do
How often?
How long?
Compound future tense
A form
Vegetables
Vocabulary

LESSON 5
At the railway station
Present tense - irregular verbs
Verbs jít ? jet
Where to? Where? By?
Already yes ? Not yet
Prepositions
Orientation in the town
Vocabulary

LESSON 6
Where do you want to go?
Modal verbs
Past tense
Where Hanna and Juan have been?
Vocabulary

APPENDICES
Essays
Verbs with the accusative
Cases
Songs
newest releases in the series