PRAGUE MEDICAL REPORT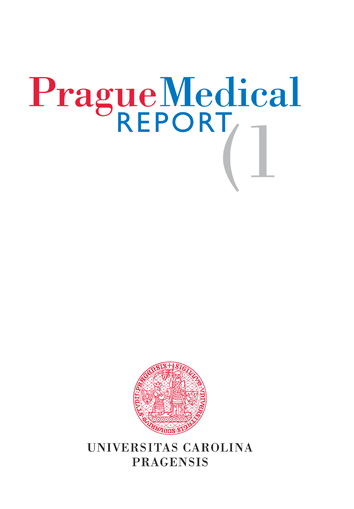 Prague Medical Report is an English quarterly published multidisciplinary biomedical journal. Prague Medical Report was founded as Sborník lékařský in May 1885. The journal presents public primary scientific publications, short communications, casuistry, and reviews. It contains articles based on important specialised lectures and symposia.
Buspirone-associated Movement Disorder: A Literature Review
Jamir Pitton Rissardo, Ana Letícia Fornari Caprara
DOI: https://doi.org/10.14712/23362936.2020.1
announced: 19. 03. 2020
abstract
Buspirone (BUS) belongs to the azapirone chemical class. The aim of this literature review is to evaluate the clinical epidemiological profile, pathological mechanisms, and management of BUS-associated movement disorders (MD). Relevant reports in six databases were identified and assessed by two reviewers without language restriction. A total of 25 reports containing 65 cases were assessed. The MD associated with BUS were: dyskinesia in 14 cases, 10 of akathisia, 8 of myoclonus, 6 of Parkinsonism, and 6 of dystonia. The cases not clearly defined were 7 tension, 14 incoordination, and the undefined number of dyskinesia, tics, and Parkinsonism. The mean age was 45.23 years (range: 15–74). The male was the predominant sex in 60.86% and the most common BUS-indication was anxiety disorder. The mean BUS-dose was 42.16 mg (range: 5–100). The time from the beginning of BUS administration to the MD onset was one month or less in 76%. The time from BUS withdrawal to complete recovery was within one month in 87.5%. The most common management was BUS withdrawal. In 16 patients the follow-up was reported: 14 had a full recovery, but in two (1 dyskinesia + 1 dystonia) the symptoms continued after the BUS withdrawal. MD associated with BUS were scarcely reported in the literature. Moreover, in the majority of cases, no clear description of the clinical profile, neurological examination, or the time data of the movement disorder onset and recovery were given.
keywords: Buspirone; MJ 9022-1; Review; Movement disorder; Drug-induced

Buspirone-associated Movement Disorder: A Literature Review is licensed under a Creative Commons Attribution 4.0 International License.
167 x 240 mm
published: 4 x per year
print price: 450 czk
ISSN: 1214-6994
E-ISSN: 2336-2936
Download