HISTORICKÁ SOCIOLOGIE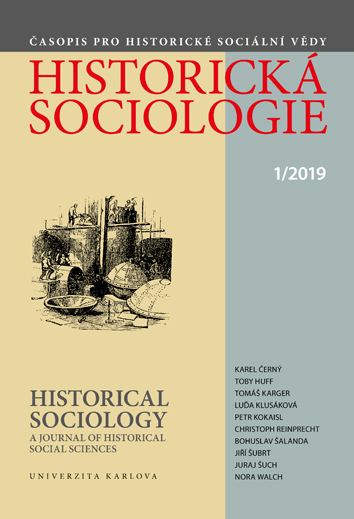 Interdisciplinary journal focusing primarily on sociological, political science and historical perspectives on the issue of long-term social processes and trends, modernization, globalization tendency and impacts.
The journal creates a broader platform for researches in the historical social sciences. Epistemological field is not strictly bounded, it is also meant to overlap with civilizationalism, cultural sociology and other related fields.
Historical Sociology is Open Access Journal and all published papers are available in the archive section. Open access journal means that all content is freely available without charge to the user or institution. Users are allowed to read, download, copy, distribute, print, search, or link to the full texts of the articles in this journal without asking prior permission from the publisher or the author.
Published by Charles University in Prague, Karolinum Press, cooperated with Faculty of Humanities, Charles University in Prague.
Reviewed scientific journal issued twice a year (in June and December).
The journal is abstracted and indexed in CEEOL, CEJSH, DOAJ, EBSCO, Emerging Sources Citation Index, ERIH PLUS, OAJI, recensio.net, Scopus, SSOAR, Ulrichsweb.
The journal is archived in Portico.
Kaleidoskop historické sociologie
[Kaleidoscop of Historical Sociology]
Bohuslav Šalanda
DOI: https://doi.org/10.14712/23363525.2019.1
announced: 27. 06. 2019
abstract
references (15)
1. Bendová, Helena - Strnad, Matěj (ed.) [2014]. Společenské vědy a audiovize. Praha: AMU.
2. Bendová, Helena [2016]. Umění počítačových her. Praha: NAMU.
3. Didi-Huberman, Georges [2006]. Před časom. Dejiny umenia a anachronismus obrazov. Bratislava: Kalligram.
4. Fišerová, Michaela [2015]. Obraz a moc. Rozhovory s francouzskými mysliteli. Praha: Karolinum.
5. Fišerová, Sylva (ed.) [2012]. Homér: Odysseia. Praha: Academia.
6. Fischerová, Sylva - Starý, Jiří (ed.) [2016]. Starodávné bejlí. Obrysy populární a brakové literatury ve starověku a středověku. Praha: Univerzita Karlova, Filozofická fakulta.
7. Giddens, Anthony [2005]. Sociologie. Praha: Argo.
8. Jakubec, Ivan [2018]. Společenská dimenze automobilismu. Historická sociologie (2): 127-133. CrossRef
9. Jakubec, Ivan - Šternberk, Jan [2018]. Cestovní ruch pod dohledem třetí říše. Praha: Karolinum.
10. Janeček, Petr [2017]. Mýtus o Pérákovi. Městská legenda mezi folklorem a populární kulturou. Praha: Argo.
11. Luffer, Jan [2014]. Katalog českých démonologických pověstí. Praha: Academia.
12. Narbut, Nikolay P. [2019]. Ten years of historical sociology in Prague: A new perspective branch of Czech sociology. RUDN Journal of Sociology 2019 (1): 167-174. CrossRef
13. Otčenášek, Jaroslav [2012]. Antropologie narativity. Problematika české pohádky. Praha: Etnologický ústav AV ČR.
14. Otčenášek, Jaroslav (ed.) [2019]. České lidové pohádky I - Zvířecí pohádky a bajky. Praha: Vyšehrad.
15. Pohunek, Jan [2015]. Stíny mezi stromy. Extravilán v současných pověstech. Praha: Národní muzeum.

Kaleidoskop historické sociologie is licensed under a Creative Commons Attribution 4.0 International License.
230 x 157 mm
published: 2 x per year
print price: 120 czk
ISSN: 1804-0616
E-ISSN: 2336-3525
Download