EUROPEAN JOURNAL OF ENVIRONMENTAL SCIENCES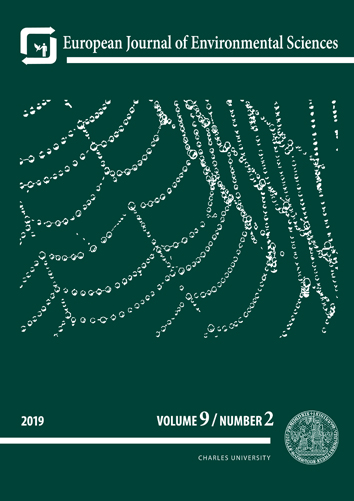 The European Journal of Environmental Sciences offers a mixture of original peer-reviewed research papers, which bring you some of the most exciting developments in environmental sciences in the broadest sense, often with an inter- or trans-disciplinary perspective, focused on the European problems. The journal also includes critical reviews on topical issues, and overviews of the status of environmental protection in particular regions or countries. The journal covers a broad range of topics, including direct or indirect interactions between abiotic or biotic components of the environment, interactions of environment with human society, or environmental sustainability.
Ichthyofaunal diversity of Ranjit Sagar Wetland situated in the northwestern Himalayas
Onkar Singh Brraich, Sunil Kumar Saini
DOI: https://doi.org/10.14712/23361964.2019.14
announced: 28. 12. 2019
abstract
Diversity of fishes was evaluated at the Ranjit Sager Wetland and its three adjoining streams. Factors like altitude, bed gradient, dominated substratum and habitat types of the streams have also been studied. These streams fall under Type-B category on the basis of habitat variability, gradient and sinuosity. 43 fish species represented by 6 orders have been reported from the study area. Out of all 43 fish species, 13 come under threatened categories of Red List of IUCN, out of which 2, 3 and 8 come under Endangered (EN), Vulnerable (VU) and Low Risk near threatened category (LRnt) respectively. It has been analyzed from the above pattern that maximum fish species reported from this wetland have fallen under different threatened categories.
keywords: abundance; habitat loss; species richness; threatened species

Ichthyofaunal diversity of Ranjit Sagar Wetland situated in the northwestern Himalayas is licensed under a Creative Commons Attribution 4.0 International License.
210 x 297 mm
published: 2 x per year
print price: 150 czk
ISSN: 1805-0174
E-ISSN: 2336-1964
Download