EUROPEAN JOURNAL OF ENVIRONMENTAL SCIENCES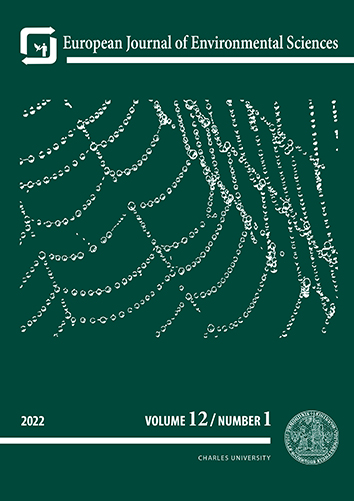 The European Journal of Environmental Sciences offers a mixture of original peer-reviewed research papers, which bring you some of the most exciting developments in environmental sciences in the broadest sense, often with an inter- or trans-disciplinary perspective, focused on the European problems. The journal also includes critical reviews on topical issues, and overviews of the status of environmental protection in particular regions or countries. The journal covers a broad range of topics, including direct or indirect interactions between abiotic or biotic components of the environment, interactions of environment with human society, or environmental sustainability.
Invading non-native populations replace native ones of the endangered freshwater snail Theodoxus fluviatilis in the river Rhine
Bruno Baur, Patrick Steinmann, Peter Landert, José D. Gilgado, Hans-Peter Rusterholz
DOI: https://doi.org/10.14712/23361964.2022.1
published online: 26. 06. 2022
abstract
In the past, the freshwater snail Theodoxus fluviatilis was abundant in the river Rhine, but was considered to be extinct in the Upper and HighRhine in 2004. We found individuals of T. fluviatilis for the first time at sites in the southern part of the Upper Rhine and High Rhine in 2020,where this species went extinct 16 years ago. There are several distinct haplotypes of this species; some of them occurring in geographicallyseparated regions of Europe. We used mitochondrial DNA (cytochrome c oxidase subunit I, COI) to trace the origin of the newly arrivedT. fluviatilis. We examined 269 individuals collected at 29 sites and compared their sequence data with known haplotypes of T. fluviatilisand other species of Theodoxus deposited in GenBank. We also analysed a historical sample from 1995 (collected before the species wentextinct), which revealed that the haplotype of the native T. fluviatilis in the High Rhine at that time was F28. In the recent samples, however,we found T. fluviatilis with the haplotypes F31 and "euxinus", which are reported in the Ponto-Caspian region. Both haplotypes are crypticinvaders, colonizing the Rhine via the Rhine–Main–Danube canal and adversely affecting the remaining native populations of T. fluviatilisin Western Europe. Our findings are important for this species management by nature conservation authorities: lineages of endangeredspecies should be preserved and supported, while the spreading of invasive, non-native lineages (or species) should be prevented.
keywords: biological invasion; COI-sequencing; conservation; cryptic invader; non-native haplotype; Ponto-Caspian origin; tracing non-native species

Invading non-native populations replace native ones of the endangered freshwater snail Theodoxus fluviatilis in the river Rhine is licensed under a Creative Commons Attribution 4.0 International License.
210 x 297 mm
periodicity: 2 x per year
print price: 150 czk
ISSN: 1805-0174
E-ISSN: 2336-1964
Download