EUROPEAN JOURNAL OF ENVIRONMENTAL SCIENCES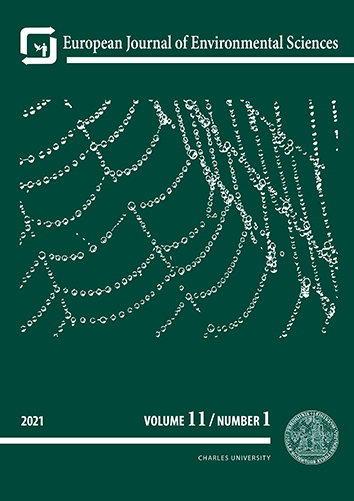 The European Journal of Environmental Sciences offers a mixture of original peer-reviewed research papers, which bring you some of the most exciting developments in environmental sciences in the broadest sense, often with an inter- or trans-disciplinary perspective, focused on the European problems. The journal also includes critical reviews on topical issues, and overviews of the status of environmental protection in particular regions or countries. The journal covers a broad range of topics, including direct or indirect interactions between abiotic or biotic components of the environment, interactions of environment with human society, or environmental sustainability.
Factors determining the distribution of orchids – a review with examples from the Czech Republic
Zuzana Štípková, Pavel Kindlmann
DOI: https://doi.org/10.14712/23361964.2021.3
announced: 20. 06. 2021
abstract
The natural environment has been significantly altered by human activity over the past few decades. There is evidence we are now experiencing the sixth mass extinction, as many species of plants and animals are declining in abundance. We focused on the Orchidaceae because this plant family has experienced one of the biggest reductions in distribution. We investigated patterns in species richness and distribution of orchids, the rate and causes of their decrease and extinction, and factors influencing their occurrence in the Czech Republic and Greece. The key findings are: (i) Method of pollination and type of rooting system are associated with their distributions and they are different in the two countries. We assume that these differences might be due to the difference in the orography, distribution of suitable habitats and types of bedrock in these two countries. (ii) The greatest reduction in distribution was recorded for critically endangered taxa of orchids. The number of sites suitable for orchids in the Czech Republic declined by 8–92%. The most threatened orchid species are Spiranthes spiralis, Anacamptis palustris, Epipogium aphyllum and Goodyera repens. The distribution of orchids in the Czech Republic is mainly determined by the distribution of their habitats. (iii) The most important factor affecting the distribution of Czech orchids in South Bohemia is land cover. And the most important types of habitats (types in KVES) are oak and oak-hornbeam forests and agricultural meadows. Based on this information, it should be possible to improve the management that is crucial for maintaining orchid localities.
keywords: decline; environmental factors; extinction; Maxent; orchids; pollination; root system

Factors determining the distribution of orchids – a review with examples from the Czech Republic is licensed under a Creative Commons Attribution 4.0 International License.
210 x 297 mm
published: 2 x per year
print price: 150 czk
ISSN: 1805-0174
E-ISSN: 2336-1964
Download