EUROPEAN JOURNAL OF ENVIRONMENTAL SCIENCES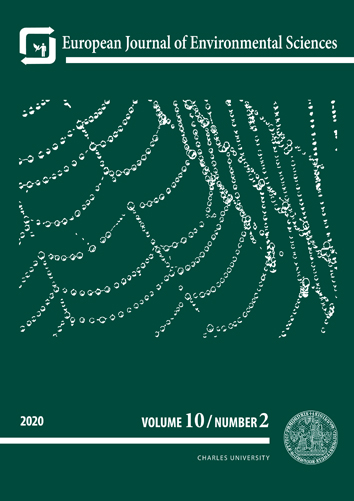 The European Journal of Environmental Sciences offers a mixture of original peer-reviewed research papers, which bring you some of the most exciting developments in environmental sciences in the broadest sense, often with an inter- or trans-disciplinary perspective, focused on the European problems. The journal also includes critical reviews on topical issues, and overviews of the status of environmental protection in particular regions or countries. The journal covers a broad range of topics, including direct or indirect interactions between abiotic or biotic components of the environment, interactions of environment with human society, or environmental sustainability.
High biodiversity in a city centre: odonatofauna in an abandoned limestone quarry
Rafał Bobrek
DOI: https://doi.org/10.14712/23361964.2020.12
announced: 09. 12. 2021
abstract
Limestone quarries are known to be places where the diversity of xerothermophilic organisms is promoting diversity and in some, there are water bodies that potentially support the presence of hydrobionts. These include dragonflies (Insecta: Odonata), which, as amphibiotic insects, use both aquatic and terrestrial habitats. The purpose of this paper was to determine whether there was a high diversity of odonatofauna in an old limestone quarry with well-developed aquatic habitats, located in an urban environment in the Central-European city of Krakow (S Poland). For this purpose, dragonflies in the quarry were monitored regularly, focusing on the reproductive status and relative abundance of each species. In 2017–2018, 37 species belonging to seven families of Odonata were recorded in the quarry, which is 50% of the Poland's odonatofauna. Of these, 33 species were considered indigenous to the quarry. Among them, 30% were moderately urbanophobic or urbanophobic taxa. Habitat specialists made up 39% of the species. Some rare and declining species, i.e. Leucorrhinia pectoralis and L. rubicunda, were abundant at this site. The study shows that a well-preserved secondary habitat, located in the centre of a city and not subject to urban management, can support a high diversity of odonates. Such limestone quarries in highly transformed urban environments can be valuable sites for this indicator group of organisms and should be identified, evaluated and conserved.
keywords: Odonata assemblage; dragonflies; urban environment; anthropogenic habitat; secondary habitat; novel ecosystem; damselflies

High biodiversity in a city centre: odonatofauna in an abandoned limestone quarry is licensed under a Creative Commons Attribution 4.0 International License.
210 x 297 mm
published: 2 x per year
print price: 150 czk
ISSN: 1805-0174
E-ISSN: 2336-1964
Download