EUROPEAN JOURNAL OF ENVIRONMENTAL SCIENCES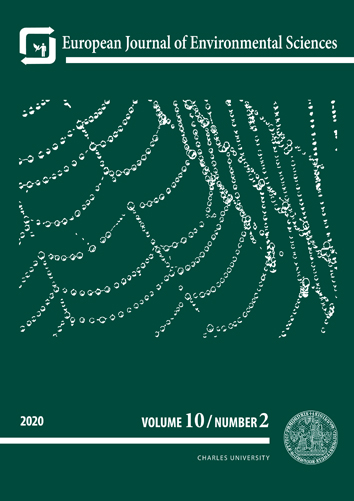 The European Journal of Environmental Sciences offers a mixture of original peer-reviewed research papers, which bring you some of the most exciting developments in environmental sciences in the broadest sense, often with an inter- or trans-disciplinary perspective, focused on the European problems. The journal also includes critical reviews on topical issues, and overviews of the status of environmental protection in particular regions or countries. The journal covers a broad range of topics, including direct or indirect interactions between abiotic or biotic components of the environment, interactions of environment with human society, or environmental sustainability.
Assessment of landscape quality based on the perception of people: study of two parks in Newcastle upon Tyne
Sepideh Shahamati
DOI: https://doi.org/10.14712/23361964.2020.8
announced: 09. 12. 2021
abstract
People experience different types of landscapes every day. The quality of these landscapes has a major effect on their psychological well-being and general satisfaction of a place. Determining the quality of landscapes is an important issue for policy makers and planners, especially when making decisions about the conservation or transformation of urban landscapes. Defining quality based on people's perception has received significant attention from planners and decision makers as it can lead to greater public involvement and improve the reliability of the decisions. This research aimed to determine the criteria important for landscape quality assessment by using walk-and-talk interviews in two green landscapes in Newcastle upon Tyne (UK). The attributes affecting people's choices include naturalness, locomotion, smoothness, surprise, variety, sense of place, tranquillity, rarity, legibility, safety, complexity, mystery, openness, accessibility, maintenance and management. Not all of these attributes have the same weight, as some are more influential in determining people's preferences, however, categorizing them into primary and secondary attributes, provided a means of evaluating landscape that is less costly and time-consuming.
keywords: landscape evaluation; landscape perception; landscape quality attributes; people's preferences; urban parks

Assessment of landscape quality based on the perception of people: study of two parks in Newcastle upon Tyne is licensed under a Creative Commons Attribution 4.0 International License.
210 x 297 mm
published: 2 x per year
print price: 150 czk
ISSN: 1805-0174
E-ISSN: 2336-1964
Download