CENTRAL EUROPEAN JOURNAL FOR CONTEMPORARY RELIGION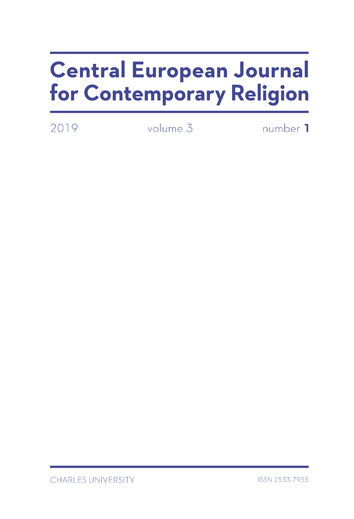 Central European Journal for Contemporary Religion is a scholarly journal issued both by the Hussite Theological Faculty of the Charles University and Karolinum Press, serving as a publication platform for Comparative Religion and related scholarship. It focuses mainly on contemporary religious phenomena with special (but not exclusive) focus on Central and Eastern Europe. It should serve both as a source of information on the religious life in the region and as a reservoir of scholarly studies focused on contemporary lived religion at large. It is issued semi-annually both in print and online (open access). Its goal is to bring up thought-provoking contributions related not only to current established religions and religious movements, both new and old, but also to map contemporary spirituality in its wider context including New Age milieu, Neopaganism and pop-cultural spirituality. The journal also covers latest theoretical and methodological trends in Comparative Religion, Ritual Studies and other disciplines. The editorial board consists of scholars from most Czech Comparative Religion departments as well as experts on the most important religious traditions of the world.
Religiosity in Slovakia: Structure, Dynamics and Spatial Diversification
Tatiana Zachar Podolinská, Miroslav Tížik, Juraj Majo
DOI: https://doi.org/10.14712/25704893.2019.1
announced: 31. 01. 2020
abstract
Religiosity represents a key temporal and spatial-based social phenomenon with great internal variability. In this paper, we focus on a selection of the most important indicators of this factor in Slovakian society. With the aid of temporal statistical data with some structural differences (such as age) in current society, we attempt to concentrate on the dynamics and great spatial diversification of denominational division in Slovakia. The Church and state relationship is another politically important factor which influences this social phenomenon. The variability of relationships within the social and political context and its transformations was a significant determinant influencing the religiosity and development of religious life. Moreover, even in today's mostly secularizing society, this relationship maintains its importance for the society. In the analysis of societal religiosity, we have to focus on the internal aspects of faith, measured by representative surveys that portray varieties of internal aspects of faith and their divergence from the censual measurement of denominational affiliation.
keywords: religiosity; Slovakia; diversity; denominations; secularization; church-state relation

Religiosity in Slovakia: Structure, Dynamics and Spatial Diversification is licensed under a Creative Commons Attribution 4.0 International License.
157 x 230 mm
published: 2 x per year
print price: 180 czk
ISSN: 2533-7955
E-ISSN: 2570-4893
Download