AUC STUDIA TERRITORIALIA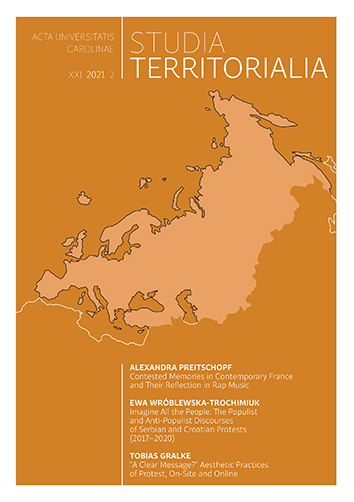 AUC Studia Territorialia (Acta Universitatis Carolinae Studia Territorialia) is a peer-reviewed academic journal focusing on Area Studies. It covers political, economic, social, and cultural affairs of North America, Europe, and post-Soviet Eurasia in the twentieth and twenty-first centuries. The journal was founded in 2001; currently, it appears biannually, both electronically and in print. It publishes original scholarly articles, book reviews, conference reports and research notes. The journal is a publication of the Institute of International Studies at Charles University's Faculty of Social Sciences.
"A Clear Message?" Aesthetic Practices of Protest, On-Site and Online
Tobias Gralke
DOI: https://doi.org/10.14712/23363231.2022.4
published online: 28. 02. 2022
abstract
This paper explores how the performance and aesthetics of contemporary protest are shaped by social media networks and audiences from a theatre and cultural studies perspective. It analyzes the tactics used by protesters during and after on-site protests to disseminate their messages and to actively influence and control the interpretations of their protest that are distributed online by others. Based on observation of three European protest events in January and February of 2019 (in London, Budapest, and Dresden) this paper presents the characteristic tactics of protesters and the dynamic between on-site and online protests. It discusses the aesthetics of protest in the context of the ambiguousness of on-site protests, which is reinforced by social media.
keywords: aesthetics of protest; aesthetic practices; performance analysis; theatrical observation; digital media
Published by the Karolinum Press. For permission to use please write to journals@karolinum.cz.
148 x 210 mm
periodicity: 2 x per year
print price: 180 czk
ISSN: 1213-4449
E-ISSN: 2336-3231
Download