AUC STUDIA TERRITORIALIA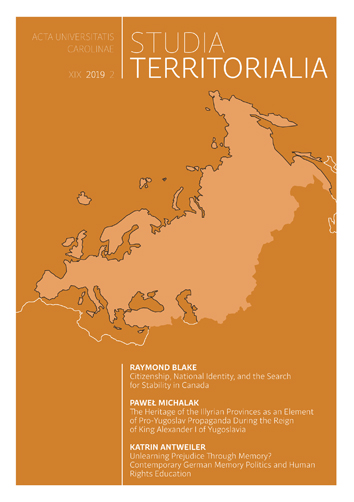 AUC Studia Territorialia (Acta Universitatis Carolinae Studia Territorialia) is a peer-reviewed academic journal focusing on Area Studies. It covers political, economic, social, and cultural affairs of North America, Europe, and post-Soviet Eurasia in the twentieth and twenty-first centuries. The journal was founded in 2001; currently, it appears biannually, both electronically and in print. It publishes original scholarly articles, book reviews, conference reports and research notes. The journal is a publication of the Institute of International Studies at Charles University's Faculty of Social Sciences.
Unlearning Prejudice Through Memory? Contemporary German Memory Politics and Human Rights Education
Katrin Antweiler
DOI: https://doi.org/10.14712/23363231.2020.4
announced: 05. 02. 2020
abstract
This article is about contemporary memory politics in Germany, with a special focus on memory education as a function of governmentality. It describes the linkage of the memory of the Holocaust with present-day human rights causes and examines education that is intended to use that memory to create better German citizens. I look into the widely accepted idea that in a democracy, citizens not only have rights but also obligations to behave in accordance with the society's values. By examining the citizen's alleged obligations and how they are characterized by different forms of memorializing historical events, I offer insight into the rationale for injecting a retrospective view into present-day politics and educational efforts that are intended to accomplish that. Contemporary German memory education is to a great extent influenced by global educational programs such as those supported by UNESCO. I come to the conclusion that many of the programs aimed at German citizens include education about the Holocaust and are considered to be "naturally" complementary to promoting human rights. Nevertheless, the German government's proclaimed aim of advancing respect for human rights and thereby creating a more peaceful future carries with it a risk of becoming a stepping stone to the assumption of a morally superior position that will result in new forms of exclusion.
keywords: Germany; Memorium Nuremberg Trials; global citizenship education; governmentality; human rights; Holocaust
Published by the Karolinum Press. For permission to use please write to journals@karolinum.cz.
148 x 210 mm
published: 2 x per year
print price: 180 czk
ISSN: 1213-4449
E-ISSN: 2336-3231
Download