AUC STUDIA TERRITORIALIA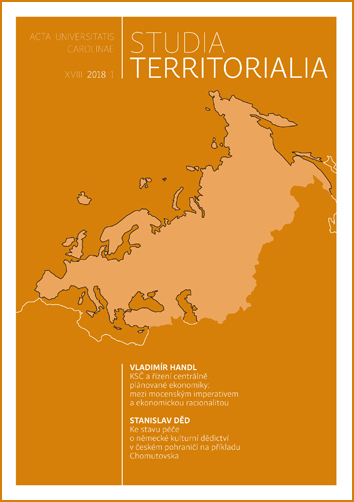 AUC Studia Territorialia (Acta Universitatis Carolinae Studia Territorialia) is a peer-reviewed academic journal focusing on Area Studies. It covers political, economic, social, and cultural affairs of North America, Europe, and post-Soviet Eurasia in the twentieth and twenty-first centuries. The journal was founded in 2001; currently, it appears biannually, both electronically and in print. It publishes original scholarly articles, book reviews, conference reports and research notes. The journal is a publication of the Institute of International Studies at Charles University's Faculty of Social Sciences.
Ke stavu péče o německé kulturní dědictví v českém pohraničí na příkladu Chomutovska
[On the State of Protection of German Cultural Heritage in the Czech Borderlands: The View from Chomutov]
Stanislav Děd
DOI: https://doi.org/10.14712/23363231.2019.3
announced: 20. 02. 2019
abstract
This discussion highlights the unsatisfactory state of care for local German cemeteries in the Czech borderlands, a topic that deserves attention not only in the context of the Czech-German relations, but also in the context of the celebration of 2018 as the European Year of Cultural Heritage. The author served as a director of the Regional Museum in Chomutov (Komotau), a town in north-western Bohemia. Against this background, he reflects on the causes of this dire state, pointing to the insufficient performance of the relevant Czech authorities in the protection of cultural heritage. Furthermore, he presents positive examples of civic engagement towards Czech-German reconciliation.
keywords: Czech Republic; cultural heritage; cemeteries; Sudeten Germans; Czech-German relations; reconciliation
Published by the Karolinum Press. For permission to use please write to journals@karolinum.cz.
148 x 210 mm
published: 2 x per year
print price: 180 czk
ISSN: 1213-4449
E-ISSN: 2336-3231
Download