AUC INTERPRETATIONES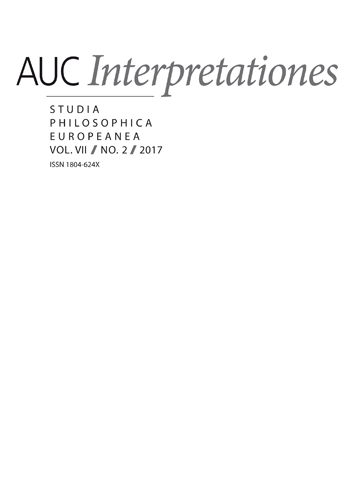 AUC Interpretationes (Acta Universitatis Carolinae Interpretationes Studia Philosophica Europeanea) is a philosophical journal focusing on 20th-century European philosophy, particularly French and German philosophy, and phenomenology.
Erscheinen und Latenz
[Appearance and latency]
Roberto Walton
DOI: https://doi.org/10.14712/24646504.2019.6
announced: 16. 07. 2019
abstract
The characteristics assigned by Heidegger to the coming-to-presence of what is present are examined in the light of Husserl's distinction between patency and latency. Subsequently, parallels are drawn regarding the notions of clearing and the unapparent. Finally, differences between Heidegger's openregion and Husserl's horizonality are shown.

Erscheinen und Latenz is licensed under a Creative Commons Attribution 4.0 International License.
148 x 210 mm
published: 2 x per year
print price: 180 czk
ISSN: 1804-624X
E-ISSN: 2464-6504
Download