AUC INTERPRETATIONES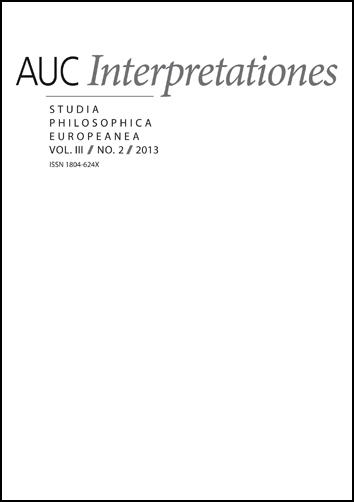 AUC Interpretationes (Acta Universitatis Carolinae Interpretationes Studia Philosophica Europeanea) is a philosophical journal focusing on 20th-century European philosophy, particularly French and German philosophy, and phenomenology.
Spinoza, Jonas, and the theory of organicism
Emanuele Costa
announced: 29. 03. 2015
abstract
In this paper, I will discuss an on Spinoza written by Hans Jonas in 1965: "Spinoza and the Theory of Organism". First, I will present Jonas'main argument and the theoretical assumptions of his essay; then I will expand on the possible development of these assumptions with the aim of proposing a complete theory of being; a Spinozian ontology. Finally, my argument will focus on the interpretation of Spinoza's work and thought as an organicism and the possible relations between this reading and Jonas'article.

Spinoza, Jonas, and the theory of organicism is licensed under a Creative Commons Attribution 4.0 International License.
148 x 210 mm
published: 2 x per year
print price: 180 czk
ISSN: 1804-624X
E-ISSN: 2464-6504
Download