AUC INTERPRETATIONES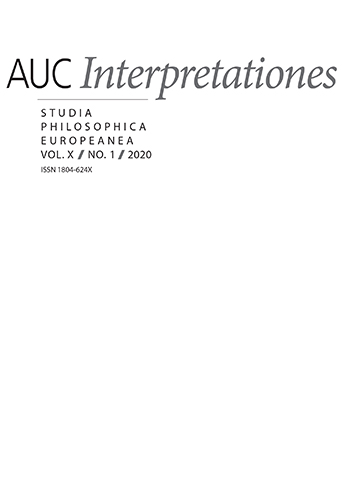 AUC Interpretationes (Acta Universitatis Carolinae Interpretationes Studia Philosophica Europeanea) is a philosophical journal focusing on 20th-century European philosophy, particularly French and German philosophy, and phenomenology.
Reading Levinas' Deconstruction of Time Through the Ethical Subject
Haeyeun Han
DOI: https://doi.org/10.14712/24646504.2021.13
announced: 10. 01. 2022
abstract
This paper will take a closer look at Levinas' ethical subject and diachronic time in relation to Heidegger's project of Being and Time. Throughout the analysis, I will show how Levinas reformulates Heidegger's task and overcomes its limitation by successfully construing "the whole of time", in the mode of discontinuity. Levinasian Diachronic time reveals a new signi-fication of finiteness, to be a Messiah, who dedicates oneself to the suffering others without seeking other-worldly hopes, for the "responsibility of a mortal being for a mortal being" itself is "the relationship with the infinite". Furthermore, I will argue that through this diachronic time, Levinas attempts to construct a new structure of eternity under the influence of Rosenzweig. Levinas declares that only after falsifying hopes are dissolved in despair, infinity breaks into time, and enables "mortal human beings" to participate in "immortality" through the time of the Other. Whereas Heideggerian ontology attempted to articulate the meaning of Being-in-general based on the being of Dasein and temporality, Levinas captures that the pri-mordial horizon of ethics is the manifestation of the face of the Other and diachronic time, which lead us to think beyond Being, namely, "the otherwise than being".

Reading Levinas' Deconstruction of Time Through the Ethical Subject is licensed under a Creative Commons Attribution 4.0 International License.
148 x 210 mm
published: 2 x per year
print price: 180 czk
ISSN: 1804-624X
E-ISSN: 2464-6504
Download