AUC GEOGRAPHICA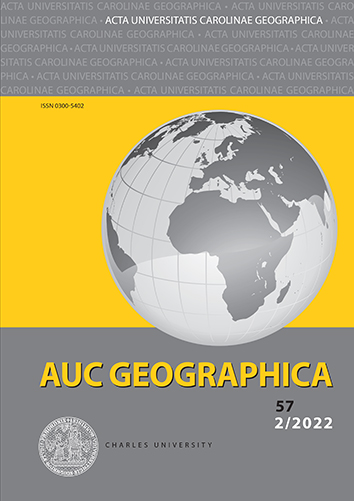 AUC Geographica (Acta Universitatis Carolinae Geographica) is a scholarly academic journal continuously published since 1966 that publishes research in the broadly defined field of geography: physical geography, geo-ecology, regional, social, political and economic geography, regional development, cartography, geoinformatics, demography and geo-demography.
AUC Geographica also publishes articles that contribute to advances in geographic theory and methodology and address the questions of regional, socio-economic and population policy-making in Czechia.
Periodical twice yearly.
Release dates: June 30, December 31
All articles are licenced under Creative Commons Attribution 4.0 International licence (CC BY 4.0), have DOI and are indexed in CrossRef database.
AUC Geographica is covered by the following services: EBSCO, GeoBibline, SCOPUS, Ulrichsweb and Directory of Open Access Journals (DOAJ).
The journal has been covered in the SCOPUS database since 1975 – today
https://www.scopus.com/source/sourceInfo.uri?sourceId=27100&origin=recordpage
The journal has been selected for coverage in Clarivate Analytics products and services. Beginning with V. 52 (1) 2017, this publication will be indexed and abstracted in Emerging Sources Citation Index.
The journal has been indexed by the Polish Ministry of Science and Higher Education (MSHE) on the list of scientific journals recommended for authors to publish their articles. ICI World of Journals; Acta Universitatis Carolinae, Geographica.
Scopus Journal Metric
SJR (SCImago Journal Rank) (2020): 0.193
SNIP (Source Normalized Impact per Paper) (2020): 0.842
CiteScore (2020): 1.00
The journal is archived in Portico.
From geopolitics to anti-geopolitics: The story of Cameroonian bilingualism
Josef Kučera
DOI: https://doi.org/10.14712/23361980.2022.12
published online: 14. 12. 2022
abstract
The aim of the article is to examine how Cameroonian bilingualism was portrayed in academic literature and how it fit into the ongo¬ing geopolitical dynamics. The article considers two time periods for the geopolitical narrativization of African states (1960–1990 and 1990–2020). These two periods differ not only in geopolitical narrativization, but also in the shift in academic paradigms. This article employs geopolitical and anti-geopolitical approaches to show how the state's narrative of bilingualism has been filling into the globally accepted narratives. Cameroon was chosen as the extreme case, where the two former colonial languages (English and French) share the same status, defining Cameroon as a bilingual country. The conclusion of the article is that Cameroon's bilingual status has the ability to fit into the current geopolitical narratives. Beside the dominant narrative, there was present at least one important narrative.
keywords: anti-geopolitics; bilingualism; Cameroon; geopolitics; language policy
references (1)
1. Welch, C. E. (1966): Dream of Unity: Pan-Africanism and Political Unification in West Africa. Ithaca, N. Y.: Cornel University Press. CrossRef

From geopolitics to anti-geopolitics: The story of Cameroonian bilingualism is licensed under a Creative Commons Attribution 4.0 International License.
210 x 297 mm
periodicity: 2 x per year
print price: 200 czk
ISSN: 0300-5402
E-ISSN: 2336-1980
Download