AUC GEOGRAPHICA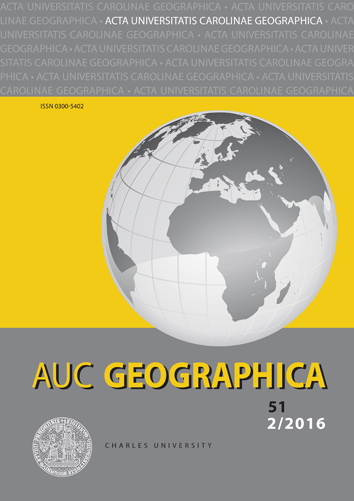 AUC Geographica (Acta Universitatis Carolinae Geographica) is a scholarly academic journal continuously published since 1966 that publishes research in the broadly defined field of geography: physical geography, geo-ecology, regional, social, political and economic geography, regional development, cartography, geoinformatics, demography and geo-demography.
AUC Geographica also publishes articles that contribute to advances in geographic theory and methodology and address the questions of regional, socio-economic and population policy-making in Czechia.
Periodical twice yearly.
Release dates: June 30, December 31
All articles are licenced under Creative Commons Attribution 4.0 International licence (CC BY 4.0), have DOI and are indexed in CrossRef database.
AUC Geographica is covered by the following services: EBSCO, GeoBibline, SCOPUS, Ulrichsweb and Directory of Open Access Journals (DOAJ).
The journal has been covered in the SCOPUS database since 1975 – today
https://www.scopus.com/source/sourceInfo.uri?sourceId=27100&origin=recordpage
The journal has been selected for coverage in Clarivate Analytics products and services. Beginning with V. 52 (1) 2017, this publication will be indexed and abstracted in Emerging Sources Citation Index.
The journal has been indexed by the Polish Ministry of Science and Higher Education (MSHE) on the list of scientific journals recommended for authors to publish their articles. ICI World of Journals; Acta Universitatis Carolinae, Geographica.
Scopus Journal Metric
SJR (SCImago Journal Rank) (2020): 0.193
SNIP (Source Normalized Impact per Paper) (2020): 0.842
CiteScore (2020): 1.00
The journal is archived in Portico.
The role of social capital in economic performance of the Ukrainian Entrepreneurs in Czechia
Katalin Kovály, Dita Čermáková
DOI: https://doi.org/10.14712/23361980.2016.11
announced: 13. 12. 2016
abstract
This article presents the concept of social capital and highlights its use in the economic performance of Ukrainian entrepreneurs in Czechia. The social capital stands as one of the important resources, which can be used by migrant entrepreneurs in creating their own businesses and ethnic economies. The concept of social capital with its different approaches, roles and impact on society is a frequent topic of current scientific debate, particularly in connection with mass immigration to the Western countries. In our analysis we use the individual approach of social capital that goes in line with personal ties, and thus it is closely connected to mutual trust, cooperation, contacts as well as mutual aid and solidarity. Our main research question is whether the Ukrainian entrepreneurs poses social capital and how they use it in their business activities. The article is founded on qualitative research based on 16 in-depth semi-structured interviews with Ukrainian entrepreneurs and key actors of the Ukrainian community in Czechia. We conclude that the Ukrainians do not use their social capital to the available extent. The networks of contacts exist among the Ukrainian entrepreneurs, but their use for economic cooperation is rather limited, which seems to be caused by their low level of trust. The mutual solidarity presented in private life and in economic activities does not play a significant role. Moreover, due to the absence of social capital, Ukrainian entrepreneurs have not yet developed their ethnic economy in Czechia.
keywords: social capital; migrant entrepreneurship; Ukrainian migrants; Czechia

The role of social capital in economic performance of the Ukrainian Entrepreneurs in Czechia is licensed under a Creative Commons Attribution 4.0 International License.
210 x 297 mm
published: 2 x per year
print price: 200 czk
ISSN: 0300-5402
E-ISSN: 2336-1980
Download