AUC GEOGRAPHICA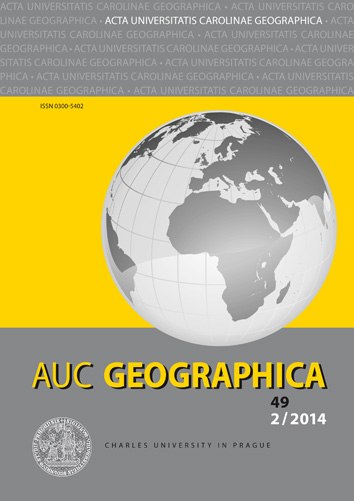 AUC Geographica (Acta Universitatis Carolinae Geographica) is a scholarly academic journal continuously published since 1966 that publishes research in the broadly defined field of geography: physical geography, geo-ecology, regional, social, political and economic geography, regional development, cartography, geoinformatics, demography and geo-demography.
AUC Geographica also publishes articles that contribute to advances in geographic theory and methodology and address the questions of regional, socio-economic and population policy-making in Czechia.
Periodical twice yearly.
Release dates: June 30, December 31
All articles are licenced under Creative Commons Attribution 4.0 International licence (CC BY 4.0), have DOI and are indexed in CrossRef database.
AUC Geographica is covered by the following services: EBSCO, GeoBibline, SCOPUS, Ulrichsweb and Directory of Open Access Journals (DOAJ).
The journal has been covered in the SCOPUS database since 1975 – today
https://www.scopus.com/source/sourceInfo.uri?sourceId=27100&origin=recordpage
The journal has been selected for coverage in Clarivate Analytics products and services. Beginning with V. 52 (1) 2017, this publication will be indexed and abstracted in Emerging Sources Citation Index.
The journal has been indexed by the Polish Ministry of Science and Higher Education (MSHE) on the list of scientific journals recommended for authors to publish their articles. ICI World of Journals; Acta Universitatis Carolinae, Geographica.
Scopus Journal Metric
SJR (SCImago Journal Rank) (2020): 0.193
SNIP (Source Normalized Impact per Paper) (2020): 0.842
CiteScore (2020): 1.00
The journal is archived in Portico.
Comparison of two flood risk assessment methods in the case of the Turiec river, Slovakia
Stanislav Ruman
DOI: https://doi.org/10.14712/23361980.2014.22
published online: 20. 11. 2014
abstract
Floods are the most common natural process causing damage to property and loss of life in our geographical area. Efforts to reduce the risk of flooding require methods for assessing the flood risk. Application and comparison of these methods in the same area allows us to describe the differences which could not be discovered only by studying the procedure of these methods. Two methods of flood risk assessment and their outputs were compared in one part of the Turiec River in Slovakia. Results of these methods are different flood risk maps while the key difference is the definition of risk. Risk is defined on the entire surface of the modelled scenarios in the case of the risk map based on Method I. In Method II, flood risk represents an area with unacceptable risk which means the risk where the threshold value has been exceeded. The two methods obtained similar results regarding areas subject to the greatest risk of flood damage. However, Method II appears to be more effective. It uses flood depth and flood velocity information and includes creation of a Flood danger map – a suitable tool for urban planning. The method focuses only on the localities where it is urgent to reduce the flood risk.
keywords: flood risk assessment; flood hazard map; flood risk map; HEC-RAS; Turiec

Comparison of two flood risk assessment methods in the case of the Turiec river, Slovakia is licensed under a Creative Commons Attribution 4.0 International License.
210 x 297 mm
periodicity: 2 x per year
print price: 200 czk
ISSN: 0300-5402
E-ISSN: 2336-1980
Download