AUC GEOGRAPHICA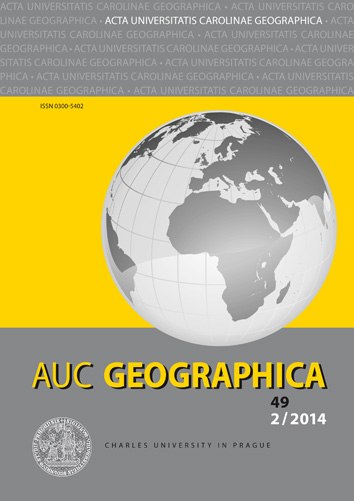 AUC Geographica (Acta Universitatis Carolinae Geographica) is a scholarly academic journal continuously published since 1966 that publishes research in the broadly defined field of geography: physical geography, geo-ecology, regional, social, political and economic geography, regional development, cartography, geoinformatics, demography and geo-demography.
AUC Geographica also publishes articles that contribute to advances in geographic theory and methodology and address the questions of regional, socio-economic and population policy-making in Czechia.
Periodical twice yearly.
Release dates: June 30, December 31
All articles are licenced under Creative Commons Attribution 4.0 International licence (CC BY 4.0), have DOI and are indexed in CrossRef database.
AUC Geographica is covered by the following services: EBSCO, GeoBibline, SCOPUS, Ulrichsweb and Directory of Open Access Journals (DOAJ).
The journal has been covered in the SCOPUS database since 1975 – today
https://www.scopus.com/source/sourceInfo.uri?sourceId=27100&origin=recordpage
The journal has been selected for coverage in Clarivate Analytics products and services. Beginning with V. 52 (1) 2017, this publication will be indexed and abstracted in Emerging Sources Citation Index.
The journal has been indexed by the Polish Ministry of Science and Higher Education (MSHE) on the list of scientific journals recommended for authors to publish their articles. ICI World of Journals; Acta Universitatis Carolinae, Geographica.
Scopus Journal Metric
SJR (SCImago Journal Rank) (2020): 0.193
SNIP (Source Normalized Impact per Paper) (2020): 0.842
CiteScore (2020): 1.00
The journal is archived in Portico.
Empirical research of modern rurality: transgression, heterogeneity, multilocality, multifunctionality. Editorial
Hana Horáková
DOI: https://doi.org/10.14712/23361980.2014.9
published online: 20. 11. 2014
abstract
The theme issue aims at investigating some of the methodological and epistemological challenges concerning the empirical research of modern rurality that has been emerging in Europe and elsewhere after the post-productivist transition (Ilbery 1998). As a complex organizational concept that permeates the economic and social structure of the countryside in the post-industrialized world, modern rurality is a source of narratives produced by different players, both local and global (Cecchi 2001). Modern rural areas characterized by the interconnection and interrelation of urban and rural as well as the transgression of the boundary between urban and rural, are therefore heterogeneous, multifunctional spaces characterized by ever increasing intercultural encounters, cultural transmission, as well as changes in travel and mobility patterns.

Empirical research of modern rurality: transgression, heterogeneity, multilocality, multifunctionality. Editorial is licensed under a Creative Commons Attribution 4.0 International License.
210 x 297 mm
periodicity: 2 x per year
print price: 200 czk
ISSN: 0300-5402
E-ISSN: 2336-1980
Download