AUC GEOGRAPHICA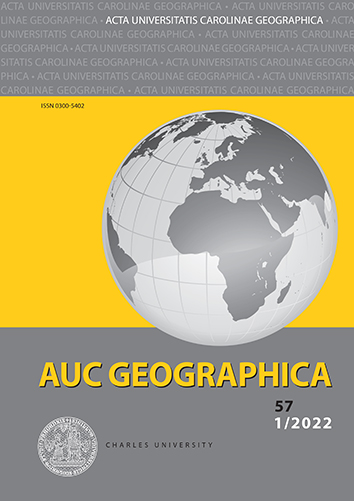 AUC Geographica (Acta Universitatis Carolinae Geographica) is a scholarly academic journal continuously published since 1966 that publishes research in the broadly defined field of geography: physical geography, geo-ecology, regional, social, political and economic geography, regional development, cartography, geoinformatics, demography and geo-demography.
AUC Geographica also publishes articles that contribute to advances in geographic theory and methodology and address the questions of regional, socio-economic and population policy-making in Czechia.
Periodical twice yearly.
Release dates: June 30, December 31
All articles are licenced under Creative Commons Attribution 4.0 International licence (CC BY 4.0), have DOI and are indexed in CrossRef database.
AUC Geographica is covered by the following services: EBSCO, GeoBibline, SCOPUS, Ulrichsweb and Directory of Open Access Journals (DOAJ).
The journal has been covered in the SCOPUS database since 1975 – today
https://www.scopus.com/source/sourceInfo.uri?sourceId=27100&origin=recordpage
The journal has been selected for coverage in Clarivate Analytics products and services. Beginning with V. 52 (1) 2017, this publication will be indexed and abstracted in Emerging Sources Citation Index.
The journal has been indexed by the Polish Ministry of Science and Higher Education (MSHE) on the list of scientific journals recommended for authors to publish their articles. ICI World of Journals; Acta Universitatis Carolinae, Geographica.
Scopus Journal Metric
SJR (SCImago Journal Rank) (2020): 0.193
SNIP (Source Normalized Impact per Paper) (2020): 0.842
CiteScore (2020): 1.00
The journal is archived in Portico.
AUC GEOGRAPHICA, 234–247
The influence of mayors as candidates in the 2017 parliamentary elections on voter decision-making in Czechia
Radek Pileček
DOI: https://doi.org/10.14712/23361980.2021.15
announced: 19. 11. 2021
abstract
Local activities of electoral candidates represent one of the key factors influencing voting behaviour. Many studies have shown an elevated electoral support for candidates in the municipality of their residence and the surrounding region. By using the example of mayors who candidated in the 2017 Czech parliamentary elections, this article proves that this voting behaviour is manifested not only through the territorial concentration of preferential votes, but also through higher local electoral support of political parties represented by these candidates. This so-called friends and neighbours effect is stronger in smaller, less populous municipalities. Its spatial extent is not necessarily limited to the respective municipality, but if a well-known and popular mayor appears at the top of the regional candidate list, it can affect voters living many kilometers away, especially in non-metropolitan areas.
keywords: electoral geography; friends and neighbours effect; voting behaviour; parliamentary elections; residuals; Czechia
references (60)
1. Agnew, J. (1996): Mapping politics: how context counts in electoral geography. Political Geography 15(2), 129-146. CrossRef
2. Arcdata Praha (2016): ArcČR 500, version 3.3 [data set], http://www.arcdata.cz/produkty-a-sluzby/geograficka-data/arccr-500.
3. Arzheimer, K., Evans, J. (2012): Geolocation and voting: Candidate-voter distance effects on party choice in the 2010 UK general election in England. Political Geography 31(5), 301-310. CrossRef
4. Baumann, Z., Winburn, J., Russo, S. J., Islam, M. S. (2021): What Are Friends for? The Effect of Geographic Proximity on Primary Turnout in Gubernatorial Elections. Political Research Quarterly 74(2), 317-331. CrossRef
5. Bendl, T., Bořil, V., Suchánek, J. (2020): Populismus, migrace a virtuální svět. Geografické rozhledy 29(5), 4-7.
6. Bernard, J., Kostelecký, T. (2014): Prostorový kontext volebního chování - jak působí lokální a regionální prostředí na rozhodování voličů. Sociologický časopis / Czech Sociological Review 50(1), 3-28. CrossRef
7. Bernard, J., Kostelecký, T., Šimon, M. (2014): Existují prostorové kontextové vlivy na volební chování i v relativně nacionalizovaném stranickém systému? příklad Česka. Geografie 119(3), 240-258. CrossRef
8. Blais, A., Gidengil, E., Dobrzynska, A., Nevitte, N., Nadeau, R. (2003): Does the Local Candidate Matter? Candidate Effects in the Canadian Election of 2000. Canadian Journal of Political Science 36(3), 657-664. CrossRef
9. Butler, D., Stokes, D. (1969): Political Change in Britain: Forces Shaping Electoral Choice. New York: St. Martin's Press.
10. Cox, K. R. (1969): The Voting Decision in a Spatial Context. Progress in Geography 1, 81-117.
11. Czech Statistical Office (2011): Sčítání lidu, domů a bytů 2011 [data set], https://www.czso.cz/csu/sldb.
12. Czech Statistical Office (2017): Volby do Poslanecké sněmovny Parlamentu České republiky konané ve dnech 20. 10. - 21. 10. 2017 [data set], https://www.volby.cz/cz/ps2017.htm.
13. Denver, D. T., Hands, G. (1993): Measuring the intensity and effectiveness of constituency campaigning in the 1992 general election. In Denver, D. T., Norris, P., Broughton, D., Railings, C. (eds.). British Elections and Parties Yearbook 1993. Hemel Hempstead: Harvester Wheatsheaf, 229-242. CrossRef
14. Dýnková, H. (2017): Analýza výsledků voleb do Poslanecké sněmovny Parlamentu ČR 2017, https://medium.com/@dynkova.hana.
15. Gimpel, J. G., Karnes, K. A., McTague, J., Pearson-Merkowitz, S. (2008): Distance-decay in the political geography of friends-and-neighbors voting. Political Geography 27(2), 231-252. CrossRef
16. Górecki, M. A., Marsh, M. (2012): Not just 'friends and neighbours': Canvassing, geographic proximity and voter choice. European Journal of Political Research 51(5), 563-582. CrossRef
17. Harbers, I. (2017): Spatial effects and party nationalization: The Geography of partisan support in Mexico. Electoral Studies 47(1), 55-66. CrossRef
18. Hábl, R. (2017): Mapa exekucí [data set], http://mapaexekuci.cz/index.php/mapa-2.
19. Hendl, P. (2006): Přehled statistických metod zpracování dat. Praha: Portál.
20. Hloušek, V. (2002): Koncept konfliktních linií ve střední a jihovýchodní Evropě - tři roviny analýzy. Středoevropské politické studie 4(2-3), 1-10.
21. Inglehart, R. F., Norris, P. (2016): Trump, Brexit, and the rise of populism: Economic have-nots and cultural backlash. HKS Faculty Research Working Paper Series. Cambridge: Harvard University. CrossRef
22. Johnston, R., Pattie, C. (1997): Where's the Difference? Decomposing the Impact of Local Election Campaigns in Great Britain. Electoral Studies 16(2), 165-174. CrossRef
23. Johnston, R., Wickham-Jones, M., Pattie, C., Cutts, D., Pemberton, H. (2016): Friends and neighbours voting revisited: The geography of support for candidates to lead the UK's Labour party. Political Geography 55, 1-9. CrossRef
24. Kal Munis, B. (2021): Place, candidate roots, and voter preferences in an age of partisan polarization: Observational and experimental evidence. Political Geography 85, 1-12. CrossRef
25. Kitschelt, H. (1994): The Transformation of European Social Democracy. Cambridge: Cambridge University Press. CrossRef
26. Kostelecký, T., Čermák, D. (2004): Vliv teritoriálně specifických faktorů na formování politických orientací voličů. Sociologický časopis / Czech Sociological Review 40(4), 469-487. CrossRef
27. Kostelecký, T. (2009): Regionální rozdíly ve volebních výsledcích v České republice - parlamentní volby 1996-2006. Evropská volební studia / European Electoral Studies 4(2), 124-134.
28. Kouba, K. (2007): Prostorová analýza českého stranického systému. Institucionalizace a prostorové režimy. Sociologický časopis / Czech Sociological Review 43(5), 1017-1037. CrossRef
29. Kowalski, M. (1999): Electoral Geography in Poland. In Duró, A. (ed.). Spatial Research in Support of the European Integration. Pécs: Centre for Regional Studies, 87-95.
30. Lepič, M. (2017): Limits to territorial nationalization in election support for an independence-aimed regional nationalism in Catalonia. Political Geography 60, 190-202. CrossRef
31. <bez popisu> CrossRef
32. Linek, L., Voženílková, M. (2017): Strany na ústupu, lídři na vzestupu? Personalizace volebního chování v České republice. Sociologický časopis / Czech Sociological Review 53(2), 147-180. CrossRef
33. Lipset, S. M., Rokkan, S. (1967): Party Systems and Voter Alignments. New York: Free Press.
34. MacAllister, I., Johnston, R., Pattie, C., Tunstall, H., Dorling, D., Rossiter, D. (2001): Class Dealignment and the Neighbourhood Effect: Miller Revisited. British Journal of Political Science 31(1), 41-59. CrossRef
35. <bez popisu> CrossRef
36. Mikešová, R. (2019): Vliv lokálního prostředí na volební chování v Česku. Geografie 124(4), 411-432. CrossRef
37. Miller, W. L. (1977): Electoral Dynamics in Britain since 1918. London: Palgrave MacMillan. CrossRef
38. Mudde, C., Kaltwasser, C. R. (2018): Studying Populism in Comparative Perspective: Reflections on the Contemporary and Future Research Agenda. Comparative Political Studies 51(13), 1667-1693. CrossRef
39. Musil, J., Müller, J. (2008): Vnitřní periferie v České republice jako mechanismus sociální exkluze. Sociologický časopis / Czech Sociological Review 44(2), 321-348. CrossRef
40. Novák, J., Netrdová, P. (2011): Prostorové vzorce sociálně-ekonomické diferenciace obcí v České republice. Sociologický časopis / Czech Sociological Review 47(4), 717-744. CrossRef
41. Panagopoulos, C., Leighley, J. E., Hamel, B. (2017): Are Voters Mobilized by a 'Friend-and-Neighbor' on the Ballot? Evidence from a Field Experiment. Political Behavior 39(4), 865-882. CrossRef
42. Panagopoulos, C., Bailey, K. (2020): "Friends-and-Neighbors" Mobilization: A Field Experimental Replication and Extension. Journal of Experimental Political Science 7(1), 13-26. CrossRef
43. Pattie, C., Johnston, R. (2000): "People Who Talk Together Vote Together": An Exploration of Contextual Effects in Great Britain. Annals of the Association of American Geographers 90(1), 41-66. CrossRef
44. Pickery, J. (2002): Contextual effects on the vote in Germany: A multilevel analysis. Discussion Papers. Berlin: WZB Social Science Center.
45. Put, G.-J., Maddens, B. (2015): The Effect of Municipality Size and Local Office on the Electoral Success of Belgian/Flemish Election Candidates: A Multilevel Analysis. Government and Opposition 50(4), 607-628. CrossRef
46. Put, G.-J., Schoultz, A., Isotalo, V. (2020): Fighting over friends and neighbors: The effect of inter-candidate geographic distance on intra-party competition. Political Geography 81, 1-12. CrossRef
47. Put, G.-J. (2021): Is there a friends-and-neighbors effect for party leaders?. Electoral Studies 71, 1-10. CrossRef
48. Rice, T. W., Macht, A. A. (1987): The Hometown Advantage: Mobilization or Conversion?. Political Behavior 9(3), 257-262. CrossRef
49. Roy, J., Alcantara, C. (2015): The Candidate Effect: Does the Local Candidate Matter?. Journal of Elections, Public Opinion and Parties 25(2), 195-214. CrossRef
50. <bez popisu> CrossRef
51. Sedláčková, M. (2012): Důvěra a demokracie. Přehled sociologických teorií důvěry od Tocquevilla po transformaci v postkomunistických zemích. Praha: Sociologické nakladatelství SLON.
52. Shin, M. E. (2001): The politicization of place in Italy. Political Geography 20(3), 331-352. CrossRef
53. Schulte-Cloos, J., Bauer, P. C. (2021): Local Candidates, Place-Based Identities, and Electoral Success. Political Behavior. CrossRef
54. Stephens, J. D. (1981): The Changing Swedish Electorate: Class Voting, Contextual Effects and Voter Volatility. Comparative Political Studies 14(2), 163-204. CrossRef
55. Šimon, M. (2015): Measuring phantom borders: the case of Czech/Czechoslovakian electoral geography. Erdkunde 69(2), 139-150. CrossRef
56. Tatalovich, R. (1975): "Friends and Neighbors" Voting: Mississippi, 1943-73. The Journal of Politics 37(3), 807-814. CrossRef
57. Taylor, P., Johnston, R. (1979): Geography of Elections. London: Penguin Books.
58. Voda, P., Pink, M. (2009): Kandidáti v poslaneckých volbách. Analýza preferenčního hlasování ve volbách do PS PČR v roce 2006. Středoevropské politické studie 11(2-3), 163-180.
59. Voda, P. (2010): Volební geografie ČR: Analýza volební podpory KDU-ČSL. Diploma thesis. Brno: Masaryk University, Faculty of Science.
60. Weng, L.-C. D. (2015): Contextual Effects on Individual Voting Behavior: The Case of Taiwan. Asian Journal of Political Science 23(3), 321-345. CrossRef

The influence of mayors as candidates in the 2017 parliamentary elections on voter decision-making in Czechia is licensed under a Creative Commons Attribution 4.0 International License.
210 x 297 mm
published: 2 x per year
print price: 200 czk
ISSN: 0300-5402
E-ISSN: 2336-1980
Download