AUC GEOGRAPHICA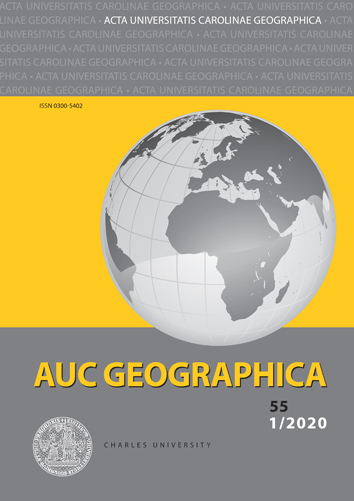 AUC Geographica (Acta Universitatis Carolinae Geographica) is a scholarly academic journal published since 1966 that focuses on actual results of research from a wide range of the geographical sciences: physical geography and geo-ecology, regional, social, political and economic geography and regional development, cartography and geo-information, demography and geo-demography. The journal disseminates research results on geographical theory and methodology and also strives to help solve practical problems in Czech regional, socio-economic and demographical policy-making.
AUC GEOGRAPHICA, 27–37
Attitudes of young Czechs towards immigration: comparison of 2011 and 2016
Lenka Pavelková, Martin Hanus, Jiří Hasman
DOI: https://doi.org/10.14712/23361980.2020.5
announced: 10. 04. 2020
abstract
The paper aims to analyse the attitudes towards immigration among Czech youth and their changes on two distinct surveys of young Czechs (aged 14–19) held in 2011 and 2016, the years before and after a period of a greatly increased inflow of migrants to the European Union. In these surveys, special focus was given to changes in attitudes and factors influencing attitudes in each year. The results show that there was not a big difference in attitudes between both samples. Nevertheless, looking closely at the results, we found two main differences. The first was higher polarisation of answers in survey from 2016 than from the one held in 2011. The second one was in factors influencing answers, mainly in the statement on having an immigrant among close friends.
keywords: attitudes towards immigration; Czechia; immigration; secondary schools

Attitudes of young Czechs towards immigration: comparison of 2011 and 2016 is licensed under a Creative Commons Attribution 4.0 International License.
210 x 297 mm
published: 2 x per year
print price: 200 czk
ISSN: 0300-5402
E-ISSN: 2336-1980
Download