AUC GEOGRAPHICA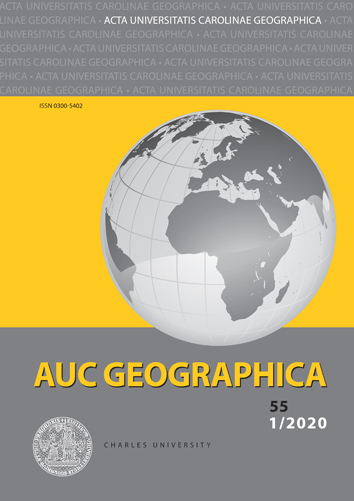 AUC Geographica (Acta Universitatis Carolinae Geographica) is a scholarly academic journal published since 1966 that focuses on actual results of research from a wide range of the geographical sciences: physical geography and geo-ecology, regional, social, political and economic geography and regional development, cartography and geo-information, demography and geo-demography. The journal disseminates research results on geographical theory and methodology and also strives to help solve practical problems in Czech regional, socio-economic and demographical policy-making.
AUC GEOGRAPHICA, 66–76
Mapping military landscape as a cultural heritage: case study of the Austerlitz/Slavkov battlefield site
Markéta Šantrůčková, Alena Salašová, Klára Sokolová, Jozef Sedláček
DOI: https://doi.org/10.14712/23361980.2020.2
announced: 27. 03. 2020
abstract
Military landscapes and battlefields are important part of cultural heritage and identity of society. As a part of common social memory, military landscape could be assessed as an associative landscape according UNESCO World Heritage Convention. Before nature and culture heritage could be treasured, it first had to be recognised. Therefore, the paper focuses on identification of historical and cultural values of military landscapes, especially battlefields. Different types of values are discussed and demonstrated on the model area of battlefield Austerlitz/Slavkov near Brno. The battle was held in 1805 and several cultural values are identified there. Identification of cultural historical values is based on detailed analysis of the old and present maps and land cover assessment, study and analysis of archival sources and grey literature and detailed terrain research. Generally, we distinguished several types of values: elements forming the setting of the battlefield; elements tied with the battle (i.e. features and objects that served for purposes of the battle during the fights and are preserved until today); elements created after the battle. Once the associative landscapes are allocated together with their associative patterns, certain values should be given to particular elements in order to secure heir protection. Then each planning activity within the site should be given a level of effect on the associative element. This simple matrix implemented in local planning development plans and policies could be a source for rational decision within the associative landscapes.
keywords: military landscape; battlefield; cultural and historical values; assessment; Austerlitz/Slavkov

Mapping military landscape as a cultural heritage: case study of the Austerlitz/Slavkov battlefield site is licensed under a Creative Commons Attribution 4.0 International License.
210 x 297 mm
published: 2 x per year
print price: 200 czk
ISSN: 0300-5402
E-ISSN: 2336-1980
Download