ACTA MEDICA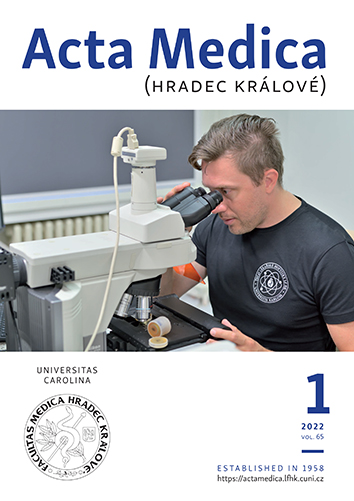 Acta Medica (Hradec Králové) is an English language multidisciplinary medical journal. Acta Medica publishes reviews, original articles, brief communications, case reports, announcements, and notices. The journal was founded in 1958 under the title "A Collection of Scientific Works of the Charles University's Faculty of Medicine in Hradec Králové". The journal is indexed in Chemical Abstracts, CNKI, DOAJ, EBSCO, Hinari, Index Medicus, MEDLINE, Scopus, and Ulrichsweb.
Bilateral Mature Ovarian Teratoma with Torsion in a Premenarchal Girl
Jana Lešková, Jaroslav Thierry Kříž, Radek Štichhauer
DOI: https://doi.org/10.14712/18059694.2022.14
published online: 29. 06. 2022
abstract
Mature cystic teratoma is the most common type of ovarian tumor in children. Adnexal torsion is the main complication of mature ovarian teratoma. The synchronous bilateral incidence of mature cystic teratoma in premenarchal girls is known to be rare. However, the incidence of adnexal torsion is higher in young girls. A 10-year-old girl presenting with acute abdomen was managed by emergency laparotomy. Bilateral mature ovarian teratoma with adnexal torsion of the right ovary was found. The right ovarian tissue was not viable due to torsion and an oophorectomy was necessary. Cystectomy with preservation of the ovarian tissue of the left ovary was performed. Histopathological diagnosis was bilateral synchronous mature teratoma with necrosis of the right adnexa. Although the risk of malignancy of torsed ovaries and mature teratomas in premenarchal girls is low, their removal is recommended to prevent adnexal torsion. Decision between ovarian tissue sparing surgery or oophorectomy depends on the risk of malignancy, fertility preservation and the avoidance of early menopause.
keywords: premenarchal girl; adnexal torsion; ovarian teratoma; surgery

Bilateral Mature Ovarian Teratoma with Torsion in a Premenarchal Girl is licensed under a Creative Commons Attribution 4.0 International License.
210 x 297 mm
periodicity: 4 x per year
print price: 150 czk
ISSN: 1211-4286
E-ISSN: 1805-9694
Download