ACTA MEDICA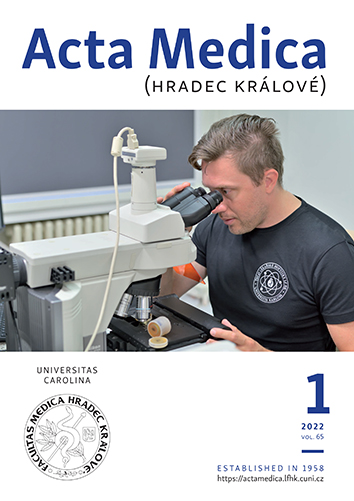 Acta Medica (Hradec Králové) is an English language multidisciplinary medical journal. Acta Medica publishes reviews, original articles, brief communications, case reports, announcements, and notices. The journal was founded in 1958 under the title "A Collection of Scientific Works of the Charles University's Faculty of Medicine in Hradec Králové". The journal is indexed in Chemical Abstracts, CNKI, DOAJ, EBSCO, Hinari, Index Medicus, MEDLINE, Scopus, and Ulrichsweb.
Efficacy of Prednisone in Children with Acute Nonspecific Mesenteric Lymphadenitis: A Pilot Study
Momcilo Pavlovic, Zeljko Rokvic, Karolina Berenji
DOI: https://doi.org/10.14712/18059694.2022.12
published online: 29. 06. 2022
abstract
Background: Acute nonspecific mesenteric lymphadenitis (ANML) is a common cause of acute abdominal pain in children with no specific treatment. Methods: A total of 13 patients (6 boys, 7 girls) aged 7.3 (5–13.5) years with severe acute abdominal pain were evaluated using ultrasonography and laboratory tests to establish the diagnosis of ANML. They were treated with prednisone 1 mg/kg (max 40 mg daily) for a maximum of 5 days. The intensity of abdominal pain was evaluated before and after treatment using a numeric rating scale. Results: All patients had pain scores above 6/10 before, and below 4/10 after treatment with prednisone. Intensity of abdominal pain after treatment for 1–5 days decreased significantly (p < 0.001), with no recurrence at follow-up within 3 months. All other pre-existing signs and symptoms, such as nausea, vomiting, anorexia, fever, diarrhea, and constipation were found to disappear with no adverse effects of corticosteroid therapy. Conclusion: These results suggest that the treatment with prednisone in selective patients with ANML can reduce the duration of abdominal pain.
keywords: mesenteric lymphadenitis; corticosteroids; abdominal pain; children; lymphoma

Efficacy of Prednisone in Children with Acute Nonspecific Mesenteric Lymphadenitis: A Pilot Study is licensed under a Creative Commons Attribution 4.0 International License.
210 x 297 mm
periodicity: 4 x per year
print price: 150 czk
ISSN: 1211-4286
E-ISSN: 1805-9694
Download