ACTA MEDICA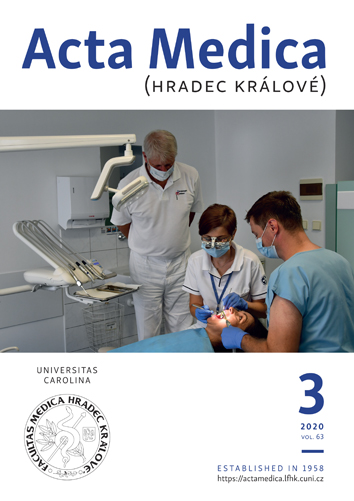 Acta Medica (Hradec Králové) is an English language multidisciplinary medical journal. Acta Medica publishes reviews, original articles, brief communications, case reports, announcements, and notices. The journal was founded in 1958 under the title "A Collection of Scientific Works of the Charles University's Faculty of Medicine in Hradec Králové". The journal is indexed in Chemical Abstracts, CNKI, DOAJ, EBSCO, Hinari, Index Medicus, MEDLINE, Scopus, and Ulrichsweb.
Clinical Probe of Cyp2C8*2 Mutants in a Malaria Hyperendemic Zone: Evidence from North-Central, Nigeria
Olalere Shittu, Olufunke Adenike Opeyemi, Olumuyiwa Babagbemi Omotesho, Oluwatosin Fakayode, Nnaemeka Asogwa, Opeyemi Margaret Adeniyi, Ifeoluwa Margaret Fatoba, Kayode Muritala Salawu, Olusola Ajibaye, Olarewaju Abdulkareem Babamale, Oluyinka Ajibola Iyiola, Olusola Isaac Aremu
DOI: https://doi.org/10.14712/18059694.2020.29
announced: 01. 10. 2020
abstract
Background: A tremendous level of success has been achieved since the introduction of chloroquine and the combination of amodiaquine and artemisinin for the treatment of both complicated and uncomplicated malaria infections in sub-Saharan Africa. However, the recent discovery of drug resistant strains of Plasmodium falciparum (P.f.) and the ability of the parasite to ingest CYP2C8 into its digestive vacuole is of great public health concern. This study probes the occurrence of CYP2C8*2 allelic mutant amongst malaria patients in North-Central Nigeria. Methods: Three hundred and eighty five (385) unrelated study participants were screened for current malaria episodes using routine microscopy and/or rapid diagnostic test strips (RDTs). Chelex extraction method was used for single nucleotide polymorphisms (SNPs) and identification of CYP2C8*2 (805A > T) variant respectively. Wild-type (A) and the defective allele (T) were differentiated with the use of Polymerase Chain Reaction-Restriction Fragment Length Polymorphism (PCR-RFLP). The results obtained were further validated with Sanger sequencing of a few samples and thereafter, the genotype data were statistically processed. All alleles obtained were in Hardy Weinberg equilibrium. Results: Out of the 385 participants (45.5% Male and 54.5% Female) genotyped for SNPs, 75 (19.5%) had the autosomal recessive mutant trait. Occurrence of mutant traits was gender and ethnic independent (p > 0.05). Yoruba ethnic group recorded a reduction in proportion of genotypic defective CYP2C8*2 allele (T) (1 in every 8 persons) with a carrier percentage of 13.3% compared with Hausa (26.62%); Igbo (25.37%) and other minority ethnic groups (17.6%). Conclusions: A remarkable inter-ethnic differences in autosomal recessive CYP2C8*2 allele was observed. By implication, there is a gradual incursion of genetic drift for poor CQ and AQ-Artemisinin metabolizers among the inhabitants.
keywords: Plasmodium falciparum; Chloroquine; Amodiaquine-Artemisinin combination therapy; CYP2C8*2; Hausa; Igbo; Yoruba; Nigeria

Clinical Probe of Cyp2C8*2 Mutants in a Malaria Hyperendemic Zone: Evidence from North-Central, Nigeria is licensed under a Creative Commons Attribution 4.0 International License.
210 x 297 mm
published: 4 x per year
print price: 150 czk
ISSN: 1211-4286
E-ISSN: 1805-9694
Download