ACTA MEDICA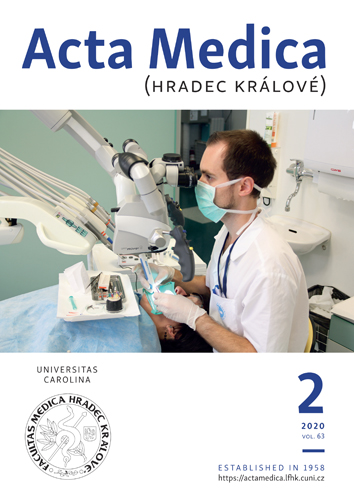 Acta Medica (Hradec Králové) is an English language multidisciplinary medical journal. Acta Medica publishes reviews, original articles, brief communications, case reports, announcements, and notices. The journal was founded in 1958 under the title "A Collection of Scientific Works of the Charles University's Faculty of Medicine in Hradec Králové". The journal is indexed in Chemical Abstracts, CNKI, DOAJ, EBSCO, Hinari, Index Medicus, MEDLINE, Scopus, and Ulrichsweb.
Duodenal Pressure Necrosis in a Child Caused by a Migrated Percutaneous Endoscopic Gastrostomy
Jan Melek, Markéta Štanclová, Radek Štichhauer, Pavel Rozsíval, Jan Kopřiva, Jana Dědková, Eva Terifajova, Eva Šedivá, Petr Dědek, Sylva Skálová, Jan Bureš
DOI: https://doi.org/10.14712/18059694.2020.21
announced: 10. 08. 2020
abstract
A two-year-old girl with two weeks of abdominal pain, vomiting, and food refusal, ten months after percutaneous endoscopic gastrostomy insertion because of inadequate peroral intake, was admitted to a tertiary centre hospital. On admission, the extracorporeal part of the gastrostomy was much shortened. X-ray examination revealed migration of the end of the gastrostomy tube with a left-shifted course of the tube through the duodenum. Gastroscopy and subsequently laparotomy were performed. A longitudinal pressure necrosis was identified under the tube, with two perforations in the duodenojejunal region. Ten centimeters of that duodenojejunal region were resected, and end-to-end anastomosis was made. The migration of the gastrostomy was probably caused by insufficient care by the parents. Pathophysiologically, the tube caused the pressure necrosis in the duodenojejunal area; this was supported by histology. This is a hitherto undescribed complication of a percutaneous endoscopic gastrostomy, showing that migration of the gastrostomy to the deeper part of the small bowel can lead to pressure necrosis, a potentially life-threatening condition in children which cannot be treated without invasive procedures.
keywords: children; migration; percutaneous endoscopic gastrostomy; perforation; pressure necrosis

Duodenal Pressure Necrosis in a Child Caused by a Migrated Percutaneous Endoscopic Gastrostomy is licensed under a Creative Commons Attribution 4.0 International License.
210 x 297 mm
published: 4 x per year
print price: 150 czk
ISSN: 1211-4286
E-ISSN: 1805-9694
Download