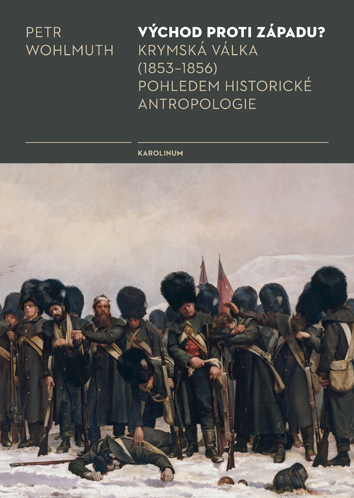 Východ proti Západu?
Krymská válka (1853–1856) pohledem historické antropologie
[East vs. West?]
subjects: history – 19th century, anthropology and ethnography

paperback, 432 pp., 1. edition
published: november 2020
ISBN: 978-80-246-4602-2
recommended price: 450 czk
summary
Historical anthropology rejects superficial patriotic and heroic accounts of war. It understands war primarily as a hard, immediate and transformative experience of those specific people involved: the ones who fight, are wounded and die, work in the rear echelons, treat and heal the wounded, provide comfort and spiritual services, or are otherwise associated with war. Such people sometimes leave behind "ego-documents": diaries, letters to friends or family, autobiographies or personal notes. It is through these sources, which provide a completely personal view of war and its violence, that the author views the Crimean War (1853–1856); this war was the first to take on an absolutely unanticipated dimension due to the application of a number of technical innovations of the industrial revolution. The author goes beyond the usual oversimplified view of the Crimean War as a religiously motivated civilizational conflict, takes neither side and analyzes the experience and culture of war, especially during the great siege of Sevastopol (1854–1855) from the perspective of 137 participants from Russia and Britain. The author analyzes key elements of the "historical mythology" of both sides, including the concept of Sevastopol as the Hero City or the narrative of the Thin Red Line and the Charge of the Light Brigade, in the background of which much more significant cultural traumas and configurations shaping the conflict could be found. In the field of military historiography, this represents a unique approach, which so far has no parallels in the Czech or global context.
reviews
Petr Wohlmuth's book is the first truly scholarly examination of the Crimean War of 1853–1856 ever written in the Czech language. At first glance, it is a straightforward narrative of the campaign on the Crimean Peninsula as experienced by British and Russian soldiers, whose personal accounts – seventy-one British and sixty-five Russian in total – are the author's key source for his storyline.
[…]
The book has many moments of analytical brilliance, even though these are from time to time buried in a thick layer of "scientific parlance" typical of many anthropological texts. Wohlmuth's history is steeped in the harsh reality of battle, and it truly succeeds in what both traditional and "new" military histories often almost subconsciously avoid: bringing combat violence into the very centre of its analysis. This book is not just about representations and discourses – it is about killing, dying, and suffering, too. It also shows that war is indeed a cultural event, and that culture in the anthropological sense is definitely a useful category in studying what actually happened on battlefields of the past. As such, one can only hope that a publisher with global outreach will pick the text up for translation, so it can reach the widest possible audience.
Jiří Hutečka (International Journal of Military History and Historiography 42/2022)