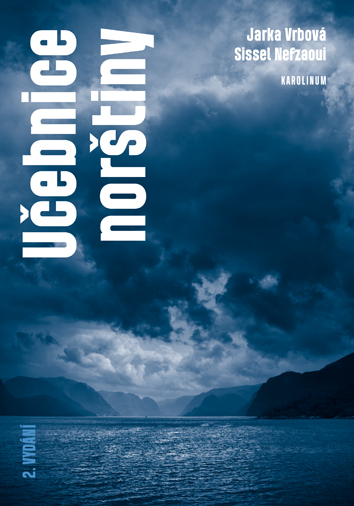 Učebnice norštiny
[Norwegian, a textbook]
Vrbová, Jarka – Nefzaoui, Sissel
subjects: language textbooks

paperback, 228 pp., 2. edition
published: september 2015
ISBN: 978-80-246-2818-9
recommended price: 270 czk
summary
The second, revised edition of this textbook written by Jarka Vrbová and Sissel Nefzaoui is suitable for both group classes and self study. Being a Germanic language, Norwegian has many similarities with English and German. Occasional references to these languages help students understand the rules of Norwegian grammar and word formation.
The current language situation in Norway includes two variants of standard Norwegian: bokmål (language derived from Danish) and nynorsk (language based on Norwegian dialects). Although this textbook focuses primarily on the bokmål, the scholars took into consideration the fact that Norwegian grammar has been developing rapidly and bokmål has been adopting an increasingly larger number of elements from dialects (nynorsk). These trends have been factored into the textbook as well.
The Norwegian textbook consists of fifteen units of the same structure: an introductory text, followed by an explanation of grammar, exercises and a list of words. This elementary level Norwegian textbook has been published in a new, attractive graphic design.