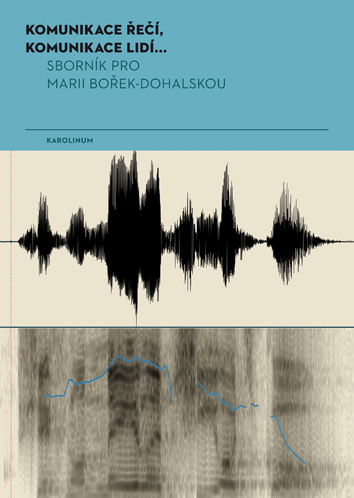 Komunikace řečí, komunikace lidí...
Sborník pro Marii Bořek-Dohalskou
[Communicating through language, communicating with people]
subjects: linguistics

paperback, 148 pp., 1. edition
published: september 2017
ISBN: 978-80-246-3706-8
recommended price: 190 czk
summary
This collection, which commemorates Professor Marie Bořek-Dohalská 80th birthday, is intended for anyone who would like to examine the sound matter of speech from different perspectives. Tomáš Duběda contributes a section on phonology, while Jaroslav Štichauer focuses on historical pronunciation. Pavel Štichauer moves from phonology to morphology, and similarly, Jiří Jančík presents a stretch of phonetic perception to higher linguistic levels, morphology and lexicology. Sylva Nováková's text brings together the phonetics of the French language and perception of music, while Ivana Čeňková's contribution interlinks instruction, technology and interpreting. Also contributing are Professor Dohalská's long-term university colleagues, including Stanislav Štech, Jan Županič and Tomáš Cajthaml. Contributors focusing on phonetic applications in technology are represented by Robert Vích and Jana Tučková through their texts as well as by Zdeněk Smékal through his personality. His contribution can also be seen a bridge to Professor Dohalská's life-long love for music, which is represented by Miloš Černý. Professor Dohalská's close connection to the francophone, or more specifically, Parisian university environment is illustrated through texts written by her closest colleagues, Georges Boulaki, Philippe Martin and Jean-Yves Dommergues.
František Novotný's poetic prelude is followed by a text presenting the personality and scholarly activities of Professor Dohalská, written by Jan Kořenský, who interviewed her on various topics through written correspondence, on the phone and eventually also in person. The collection closes with Jan Raab's playful text, filled with allusions to his collaboration with Professor Dohalská.